North Carolina has experienced a disaster following Hurricane Florence last week, with over one million people evacuated in the state.
Residents are in dire need of help and rescue from their homes.
But while humans should be prioritized, there are sadly other living beings suffering at the hands of the great natural disaster pervasive in various areas of the state.
Animals, are of course, at the top of this list.
But for one family, making sure their beloved pet dogs got out safely from the disastrous was not a negotiable idea.
Thankfully, rescue teams are in place and working tirelessly to save both humans and animals. The US Coast Guard is one such rescue group.
In this video, we watch as Coast Guard heroes selflessly rescue 14 dogs — 10 beagles and four pit bulls — from certain death.
The owner of the dogs, Josephine Horne, found her trailer submerged under water and she and her husband, Jackie, were soon thankfully rescued by the Coast Guard. But her beloved pets remained behind.
The poor dogs remained trapped in flooded cages, defeated and whimpering. Some tried to swim around, desperately seeking firm ground to stand on.
But that's when another boat pulled up, and within seconds, Coast Guard member Mitchell Moretti rushed out to save one beagle whose head barely peaked above the water.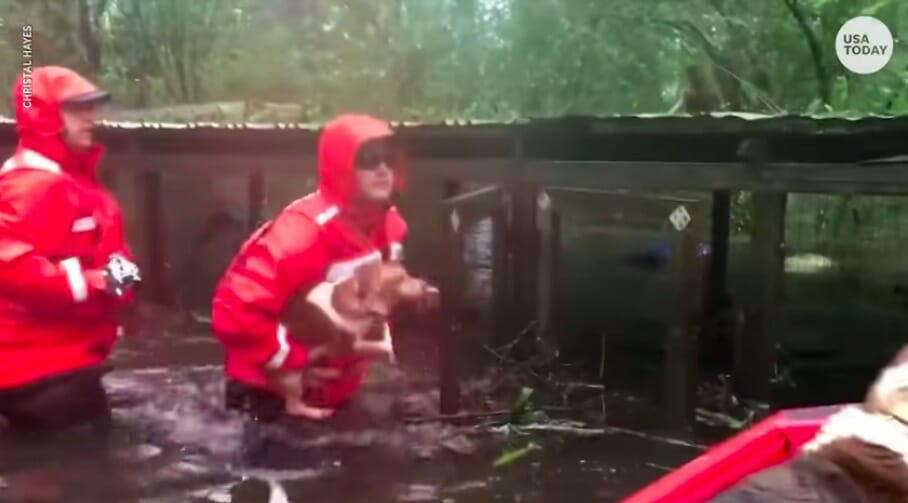 "If we would have gotten here just a few minutes later, I don't know if these guys would have made it," Mitchell said.
He and his teammates then proceed in a heroic and really just lovely rescue mission. Both Josephine and her dogs couldn't be more grateful.
You can watch a clip of the Coast Guard's wonderful rescue below.
All lives are worth saving. Please share if you agree and to thank the US Coast Guard for their tireless efforts saving all the lives at stake following Hurricane Florence.