I rewatched Groundhog Day this past week and I have to say it's a great movie, still. Bill Murray delivered one hell of a performance, and it got me thinking about the legendary actor — what is he doing today?
He still acts, only more sporadically than before. Recently, fans expressed concern and criticism at a photo of the star – even going so far as to call the 72-year-old "unalive."
But Murray could not agree less with this description – now continue reading to see his answer…
Bill Murray is most known for his on-screen comedy and public appearances. He enjoyed years of success thanks to roles in iconic films such as Groundhog Day, Caddyshack, and Lost in Translation. The acclaimed actor has been a national treasure for more than 50 years.
Born on September 21, 1950, in Evanston, Illinois, the legendary entertainer was raised in the northern suburbs of Chicago. He had eight siblings and grew up in an Irish Catholic family – three of his siblings also pursued careers in acting.
In his teens, Murray worked as a golf caddy and sang in a rock band. His career in the entertainment industry took off when he became a part of the National Lampoon Radio Hour in 1965. As a featured player, he performed on the comedy radio show alongside comic geniuses like John Belushi and Dan Aykroyd.
Murray would form a very strong friendship with John Belushi in particular – the comedy great and Saturday Night Live star had a huge impact on Murray's career and was the one who recruited Bill to The Big Apple in the first place.
"John made it possible for most of us to even get there. He dragged us out of Chicago to New York after he made it," Murray said in 1984.
When Bill came to New York, he stayed in Belushi's apartment. And when he didn't have money, the SNL star would buy the things Murray needed. Murray would eventually join Saturday Night Live in 1977 and got his big breakthrough – he stayed on the show for three seasons before venturing into the film industry.
Sadly, John Belushi died in 1982 after going down a road of destructiveness. He was only 33.
In 1979, Murray landed his first starring role with the film Meatballs. Over the years, he has played a handful of jerks. And there's a reasonable explanation for that.
"Well, I think I always got in trouble in school if that counts! People say, "Oh you act like such a jerk, that's because you're rich and famous." And I say 'No, I was a jerk before I was rich and famous — I really was, you've got to believe me,'" Murray laughed and said in an interview with The Talks.
In 1993, Murray delivered the performance of his life when he starred in Groundhog Day. The beloved fantasy comedy is about a weatherman stuck in a time loop, cursed to repeat the same bad day over and over.
Fittingly, it's become a romantic movie classic that people can watch over and over again – Bill Murray and Andie MacDowell shared an undeniable chemistry on-screen. The cult success of Groundhog Day propelled Murray into becoming one of the most famous actors of all time.
Murray has almost always been a controversial person, and in recent years there have been a lot of rumors and bad press. In 2022, he was suspended from the production of his latest movie, Being Mortal.
Bill Murray commented on his alleged inappropriate behavior with a woman who was also working on the film.
"As of now we are talking and we are trying to make peace with each other," the 71-year-old actor said during an interview on CNBC.
Murray, who was supposed to star in the film alongside Keke Palmer and Seth Rogan, confirmed the complaint was about his behavior.
"I had a difference of opinion with a woman I'm working with. I did something I thought was funny, and it wasn't taken that way," he said. "The company, the movie studio, wanted to do the right thing, so they wanted to check it all out, investigate it, and so they stopped the production."
On February 27, 2023, the production company said that the film was being canceled.
And this isn't the first time Murray has been accused of bad behavior.
In 1978, he and Chevy Chase got into a fistfight on SNL when Chase returned to be a guest host. The two later made up.
Richard Dreyfuss once accused Murray of acting like "an Irish drunken belly" on the 1991 set of What About Bob. He also reportedly clashed with actress Lucy Liu on the set of Charlie's Angels in 2000.
Despite the criticism he received, Murray has explained that he is currently happier than ever, even more so than he was at the height of his career.
In a 2014 interview, Murray said he was depressed when he started his comedy career. The star explained that he did not see himself as a good comedian and that after his first show, he left in the wrong direction.
Walking the wrong way felt symbolic to him at the time. Murray explained that it represented the wrong direction he felt his life had gone. Feeling like he was ready to "end his life," the star traveled towards Lake Michigan.
On his way to his destination, Murray paused at the Art Institute of Chicago and went inside. In the gallery, he stopped before the 1880's painting, "The Song of the Lark."
In later interviews, he said he loved and connected to the painting. Murray shared: "I saw it that day, and I just thought, 'Well, there's a girl who doesn't have a lot of prospects, but the sun is coming up anyway, and she's got another chance at it.'"
The father of six cites the painting as what inspired him to stay alive and keep fighting.
Even so, social media users still mock the 72-year-old.
Among other public performances, Murray is known to attend UConn Huskies games, where one of his sons acts as the assistant coach.
In one particular post, Facebook users flocked to mock the kind star's appearance and age.
One user called him "walking death," while another likened him to his zombified cameo in the film "Zombieland."
Despite all of the internet negativity, Murray still shows up to support his son. He lives in Charleston, South Carolina, and co-owns a variety of restaurants. He spends time at these restaurants and other local pubs.
While his boy Luke is in his second season of coaching, Murray also has five additional sons. Homer, the oldest, is a celebrity chef. Jackson and Caleb are both more private, while Cooper is a budding actor, and Lincoln–the youngest–is more private than any of his brothers. He doesn't even have a social media account.
All the boys have built their careers without help from their father, but he has made a clear effort to support them however he could.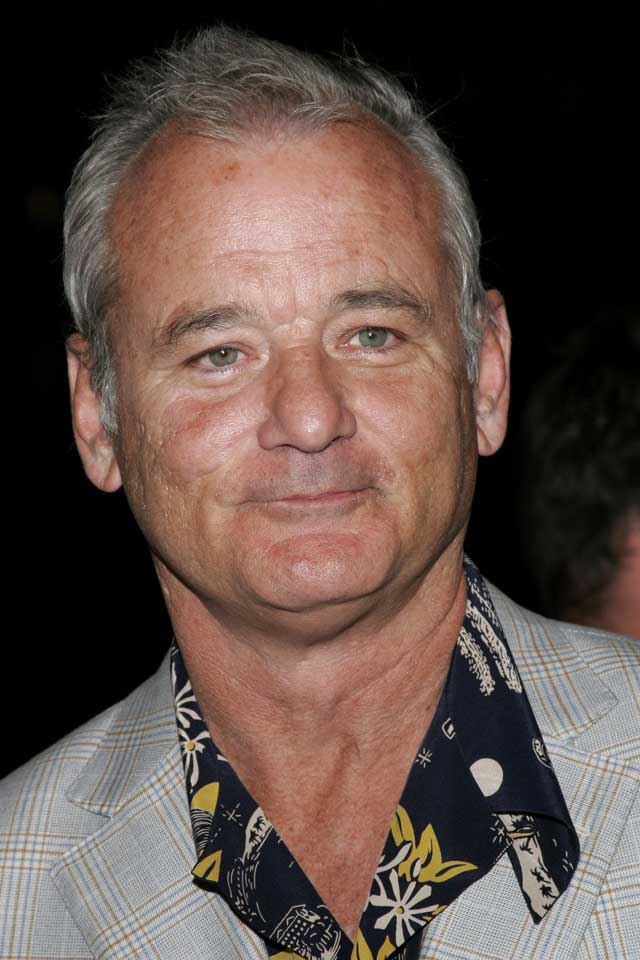 We find Bill Murray's outlook on life inspiring!
What do you think of him and his openness with his past struggles? Let us know in the comments!