The past month truck drivers have been especially busy hauling products across the country. While we may have never thought of them as essential workers before, many have quickly learned that is not the case.
We need truckers to keep our economy running, but with a recent drastic increase in workload keeping up is taking a toll on those who work a more often than not thankless job.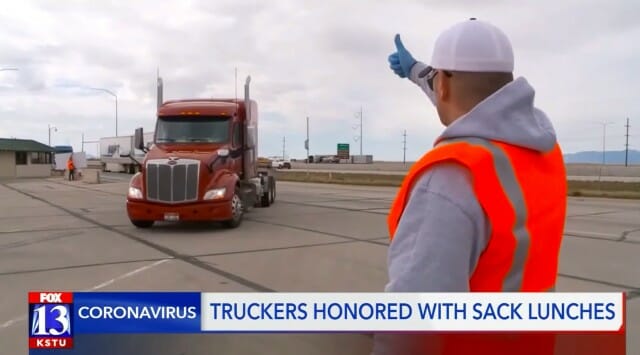 On April 1, truck drivers who passed through a port of entry in Willard, Utah were thanked for their hard work with a bagged lunch.
Sharp Transportation, Carrier Transicold of Utah, Prime Trailer LLC, and Iron Gate Catering handed out 2,000 free lunches to truckers Wednesday and thanked each and every one of them.
"This is a blessing," one truck driver told FOX 13.
A packed lunch and a "thank you" may seem like a small gesture, but many of the driver seemed to agree, they appreciate it.
"…this is one 'thank you' that I really appreciate," a trucker said.
Thank you to ALL of the truckers who are risking exposure to the coronavirus and spending time away from their families so they can get products to the stores.
We appreciate all your hard work. Share this article on Facebook to show your appreciation and thank truckers for all that they do.