A 95-year-old World War II veteran from Massachusetts finally received his high school diploma, seven decade after he left school to serve in the war.
"I can't believe this. Everybody went out of their way and I appreciate it," Louis Picariello told WHDH.
Picariello received his diploma the day before Veterans Day, which also happened to be the 246th anniversary of the Marine Corps of which he is a veteran.
The diploma was a long time coming as Picariello, who was set to graduate high school in 1944, turned 18 in March 1944. He decided to leave Needham High School and join the Marines.
He served in the Pacific, and after the war he worked as a heavy equipment operator. Picariello never returned to school.
However, his son Michael said receiving a diploma had been on Picariello's "bucket list" for some time.
"It's been a bucket list item, most recently in the last few years."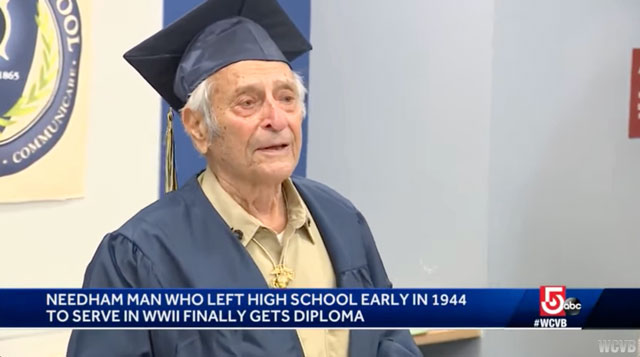 Recently, his friends at the VFW asked the school district about the possibility of a diploma for Picariello.
To everyone's delight, the district was able to make it happen.
"We're really honored that 77 years later, Louis, 77 years later we can present you with a lifetime learning diploma, representing not only your time at Needham High School but a life well lived with an amazing family and, obviously, so many friends and colleagues," Superintendent Daniel Gutekanst said.
Friends, family, and service members were in attendance.
"Will it get me into some college now?" Picariello joked.
Congratulations, Louis! You certainly earned it.
Please share this story on Facebook and congratulate Louis.