Recently we have seen an uptick in the number of people who have stepped up and lent a hand to others in their communities.
Whether it be a Boy Scout helping healthcare workers or restaurant owner who chose to stay open for one of her customers who has dementia, the stories have given many of us a sense of hope that we might have trouble seeing, especially during the coronavirus pandemic.
And here's another inspiring story to add to your list.
Nancy Williams has been hard at work lately. The 96-year-old has been busy sewing face masks for the staff at the Retreat at Loganville, the senior living facility where she lives.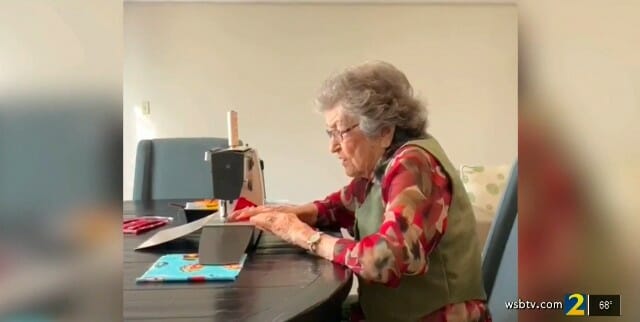 "My daughter says it's like a 'war effort.' It's for the virus. And I hand them to anyone who wants one," Williams told WSB-TV.
Despite her age, it's really no surprise that Williams has already made 150 masks, which she plans to give to the healthcare workers where she lives as well as her grandchildren and great-children who work in the medical field.
Williams has been sewing the majority of her life – she's even sewed clothes for Miss Georgia winners – and her daughter, Joan Ottinger, said Williams' sewing machine is like her sidekick.
"I hope I can make enough. I can't make enough for the whole world, but maybe I can make enough for the people around us here."
This is awesome. Keep up the great work, Nancy! Share this to encourage Nancy and others to use the skills they have to help those who are helping us stay healthy.