Walking across the stage at graduation may not seem like a big deal, but the simple action is the culmination of an academic career. And, for various reasons, not everyone gets the opportunity.
When it was Elizabeth Barker Johnson's turn to graduate she missed her opportunity to be recognized amongst her peers due to a job obligation. Now, 70 years later she's finally getting the chance to stand and be acknowledged for her degree and the long, successful career that followed.
In 1943, Johnson made history when she enlisted in the United States Army. She became part of the 6888th Central Postal Directory Battalion of the Women's Army Corps, which was the only all-black female battalion stationed overseas during the war.
She traveled to Massachusetts Kentucky before transferring to England and later on, France.
When she returned home to Winston-Salem, North Carolina, she enrolled in Winston-Salem Teachers College, which is now called Winston-Salem State University. She became the first female to enroll in the school on the GI bill.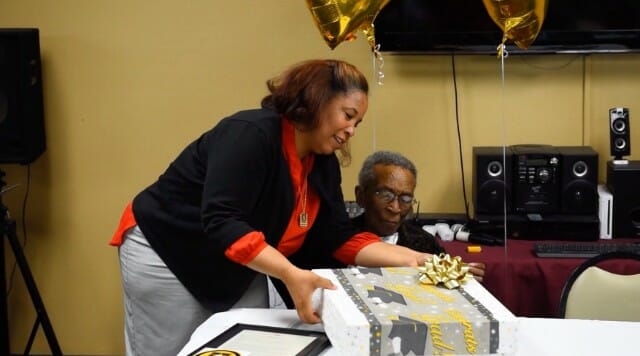 In August 1949 she earned a degree in education and accepted a job right after graduation.
"I couldn't get anyone to substitute for me back then, so I had to miss my graduation. It was terrible," Johnson told the Winston-Salem Journal.
Johnson went on to teach in Virginia before returning to teach in North Carolina where she taught for a total of 40 years.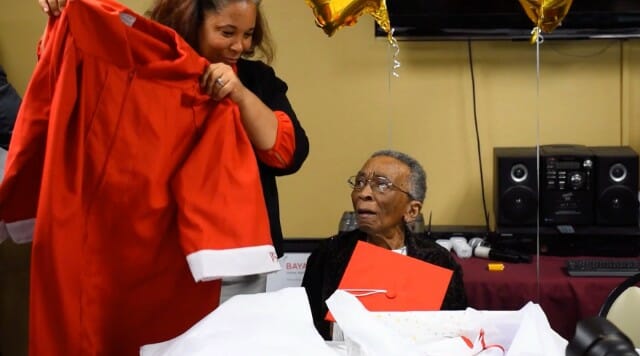 On May 2, Johnson turned 99 years old. Her family gathered to celebrate the milestone and surprise her with something she's always wanted, the opportunity to walk at graduation.
"I just can't believe this is happening. I really think I'm dreaming," she said after two deans from WSSU presented her with a cap and gown.
"From serving her country during World War II to impacting the lives of hundreds of students as a classroom teacher in North Carolina and Virginia, PFC Elizabeth Barker Johnson is the embodiment of Winston-Salem State's motto, 'Enter to Learn. Depart to Serve,'" Elwood L. Robinson, WSSU chancellor, said. "We are inspired by her and excited to give her the opportunity, 70 years later, to finally walk across stage for commencement."
On May 10, Johnson will finally get to participate in her alma mater's commencement, and her son David Johnson believes it will be one of the best days of her life.
"That's going to be probably the highest honor of her life," David said. "The fact that she gets to graduate now, after all this time, is going to melt her heart. She deserves it."
It's a shame that Johnson wasn't able to walk during her graduation in 1949, but now she's being recognized for her sacrifice.
Pass this story on to send Johnson all the well wishes in the world. She deserves it!