Following years of school shootings with little action to prevent a future mass shooting, parents around the country have taken protecting their children into their own hands.
Anthony Triplett said his own daughters were concerned after the Robb Elementary School shooting in May and asked him what was being done to keep them safe.
Not enough.
So he decided it was time to step in.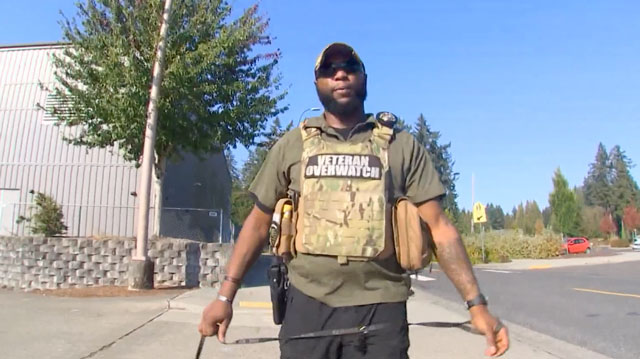 Triplett, a veteran, medically retired from the Army in 2018 due to a leg injury. During his time in the military he served two tours in Afghanistan.
And with a license to carry, he felt that he was more than qualified to protect his children and their classmates.
"If I were to hear an explosion or gunshots, see a crowd of students running out, they say, 'Someone's firing,' I'm going in."
The Army veteran patrols his daughters' schools in North Thurston Public Schools district in Washington. He spends approximately 20 hours per week walking on the public sidewalks surrounding five of the schools.
While he is glad to lend a hand and Thurston County Sheriff John Snaza said he hopes other veterans volunteer in classrooms, Snaza said there have been a "handful" of complaints.
The schools already have resource officers who patrol the campus.
At the moment Triplett isn't doing anything illegal as he is licensed to carry and sticks to the public sidewalks.
Despite making some uncomfortable, Triplett has received positive feedback as well. At the end of the day, he's interested in protecting his children.
"What's the better alternative we can do, right now to keep our kids safe?" asked Triplett. "I don't cost anything, I'm licensed, I'm trained, and I'm ready."
What do you think of Anthony Triplett patrolling outside of his daughters' schools? Should he continue or leave it up to the professionals?
Share your thoughts with us on Facebook, and then share this story to keep the conversation going.