Five siblings who recently experienced unimaginable heartbreak were surprised with a van and a donation of supplies and toys.
The four boys, ages 2, 6, 8, and 10, and their infant sister, were left without a mother and father when their father was killed in a single-vehicle crash on New Years' Eve. Their mother died a few months earlier while giving birth to the couple's daughter.
"They've been crying all the time, saying 'we lost mother. We lost father.' It's very, very hard to the kids," the family's pastor, Eugene Kiruhara, told WHO13.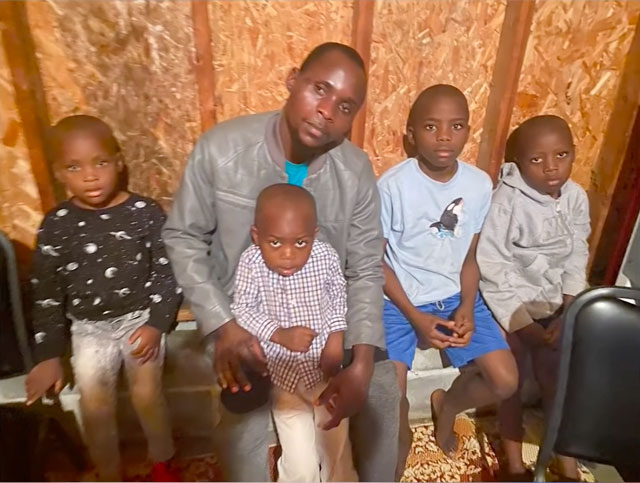 Zabayo Bigirimana and Bazirake Kariya moved to Des Moines, Iowa three years ago from the Democratic Republic of Congo.
Towards the end of 2021, Zabayo died during childbirth. On December 31, Bazirake got into an accident on an icy road and died days later due to his injuries.
Five young siblings were left without a mother and a father.
While their grandparents were able to take them in, the situation was dire. Their grandparents relied on Bazirake for financial support, and they did not speak English. A GoFundMe was set up to help cover the parents' funeral costs and to raise money for the children.
Calls for support
Since the unimaginable happened, the family's pastor has called for donations and prayers. More than $330,000 has been donated to the GoFundMe, and just recently seven car dealerships got together and donated a 2020 Dodge Caravan to the family.
They also made sure to load it up with supplies and toys for the children.
"I'm so happy," Paskali Mbinja, the children's uncle who will drive the van, told KCCI.
"I have been very surprised to see how people have been generous to give and the only thing that I can say is may God bless you," Kiruhura said.
This warms my heart to see a community step up and help when one of their own is in need.
Please share to continue to spread the word about these five siblings who are in need of our prayers and financial help.