When the winter storm hit Texas, the last thing you wanted to be doing was out on the roads driving, but for some, like delivery drivers, that meant cutting their work day short.
Chelsea Timmons was finishing up her route in Austin, when the conditions suddenly deteriorated.
She quickly realized that her plan of heading home to Houston, a 160 mile drive, was more than likely not going to happen.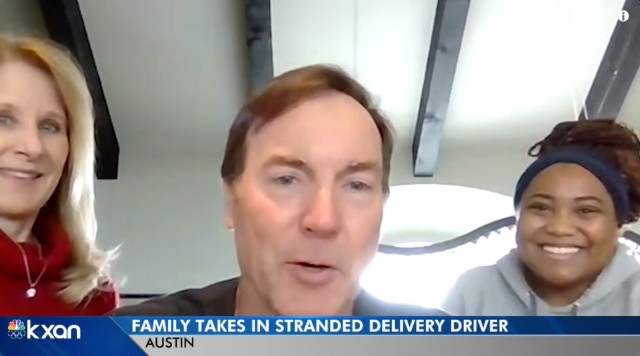 When Timmons arrived at her last stop she noticed the driveway was going to be an issue. It was at an incline.
She tried maneuvering her vehicle down the customer's driveway, but ended up landing in a flower bed.
Timmons informed the couple, Nina Richardson and Doug Condon, of the situation and they tried everything from epsom salt to bird seeds to sand to try and get the car out, but nothing helped.
And a call to AAA was unsuccessful. They were already overwhelmed.
So, Richardson and Condon asked Timmons to stay.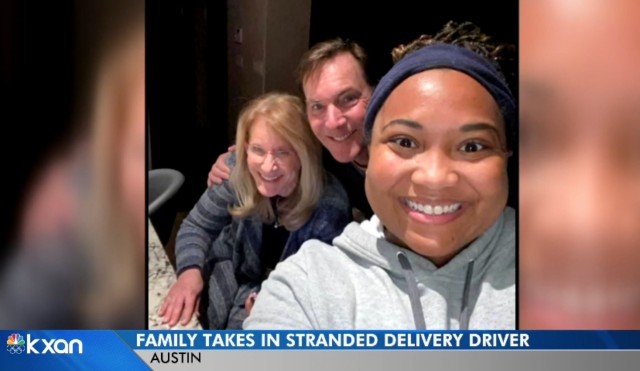 "At some point we realized that we're probably gonna have a houseguest for a few days, which was fine," Condon told KXAN.
Five nights later and Timmons and the conditions still haven't improved enough for her to leave, but no one seems to mind too much.
"Every time I suggested it they've just been like, 'Well, what will you eat? Can you make it there? Isn't the guest room better than a Hampton Inn?'"
Timmons plans to make the trip back to Houston very soon, and when she does Richardson says they'll send her on her way "with a bottle of water, sandwiches and some blankets just in case."
So many people are suffering in Texas right now, and it's great to hear stories about people helping each other get through the storm.
Share this good news on Facebook. We need more of it!