Four good samaritans are receiving a public thank you from the police chief of the Willoughby Police Department in Willoughby, Ohio after they recently stepped up to assist an officer in need.
Officer Stacee Wright had pulled over a driver for speeding shortly before 4:30 p.m. on September 10 when the driver exited his vehicle and refused to comply with Wright's orders.
Wright told him to sit down, but the man got into her face.
He was told to put his hands on the vehicle, and when he once again refused a "physical struggle" ensued.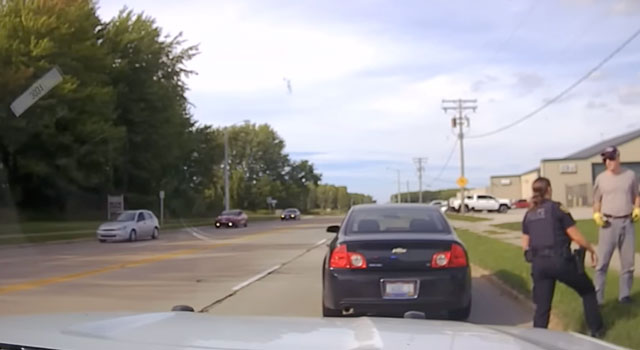 As the officer and suspect struggled on the side of the road, four strangers spotted them and stopped to lend a hand.
"His behavior was aggressive towards her, he refused several commands of hers, all of these are red flags," Det. Sgt. Michael Sevel told WKYC. "So we're thankful it ended the way it did, because it could have ended worse."
Several days after the incident Willoughby Police Chief Jim Schultz called out the good samaritans and thanked them for their quick response.
"I am so proud of our community and the tremendous support we receive on a day to day basis. Saturday was another awesome example. I greatly appreciate it!! Thank you!" Schultz wrote in a post on Facebook.
According to local news, three of the four strangers have been identified.
The suspect, who has been identified as David Koubeck, 64, was arrested and charged with assaulting a police officer and resisting arrest, along with speeding and not wearing a seat belt.
Following the altercation, Wright was taken to a nearby hospital where she was treated for minor injuries.
Thank you to these four people who noticed something was wrong and stopped to help! We need more people like you in our communities.
Please share!