A 95-year-old World War II veteran is now driving the car of his dreams thanks to a little help from his friends.
Bobbie Carson bought his first Corvette in 1985 and has since gone on to own seven different iterations of the American sports car.
As an active member of his local Corvette owners club in Missouri his fellow members knew he wanted to buy the new Corvette model but faced a two-year wait due to supply shortages.
Knowing that time was of the essence his friends got together with Ed Morse Chevrolet general manager David Bean to help him get into his dream car and a two-year wait was reduced to just 30 days.
Now the Corvette enthusiast is the proud owner of a new 2022 Chevrolet Corvette Stingray 3LT, as reported by Fox News.
Carson, who recently moved from Missouri to Georgia, traveled to the National Corvette Museum in Bowling Green on October 1 and picked up an Arctic White Stingray 3LT Corvette model with an Adrenaline Red interior – the 42nd model to be built.
"I've had seven of these cars and this dwarfs every one of them, one of the top-rated cars in the world, there's a wait list all over the world for this car and I'm happy to get it." the proud car owner told WNKY News 40.
Carson served as an infantryman in the U.S. Army's 42nd Infantry Division and joined the fighting in Europe after landing in Marseille, France, in 1944 at the Battle of the Bulge.
"We were just out of high school and were all athletes in good shape, went through a rugged training course, and then we went straight into battle … can't imagine it," Carson told Fox News.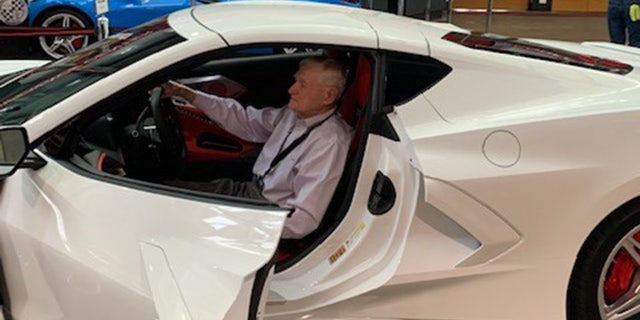 Following the Battle of the Bulge, Carson's unit continued into Germany, and helped liberate the Dachau concentration camp. From there, Carson's unit continued on to Munich, where it fought in the final days before Germany surrendered, as per a videotaped interview with the Library of Congress in 2018.
"His circle of friends got together and reached out to us," Bean told Fox News Auto. "He's really well-liked in the community and we were excited to be a part of such a deserving effort."
Carson, who said this new car will be his daily drive, said he was "honored" by the gesture from his friends and the dealership and said, "I think it's the greatest car I've ever driven."
I'm so glad his friends stepped up to help Carson who made so many sacrifices for his country. He deserves to drive his dream machine.
Please share.