Every so often a gender reveals makes headlines for all the wrong reasons. This time, an Atlanta couple's gender reveal is making the news for its simplicity, yet ability to make just about anyone shed a tear.
Recently, Alex Marbut and her husband Brett welcomed a baby girl. Due to restrictions at the hospital family members weren't allowed to be present for the birth of their child.
So with the help of employees and staff at Northside Hospital Forsyth, Alex and Brett were able to introduce their new bundle of joy to about 10 family members in a way that resembled newborn nurseries with a large picture window for viewing that began disappearing from American hospitals in the 1990s.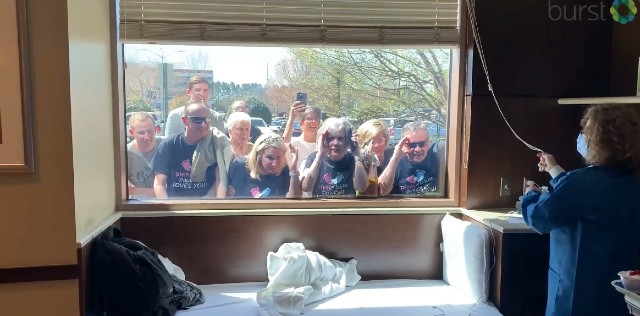 Luck was on the couple's side when they found out they were on the first floor.
"As soon as we saw we were by the parking lot on the first floor we called our family (they all live an hour away in Winder) and told them what window was our room," Alex told WSB-TV.
After baby Stella was born, family members decked out in personalized gender reveal shirts gathered in front of their window.
Alex's doctor got behind the camera while a nurse lifted the blinds for the big reveal.
The result was a moment no one will every forget.
Now that's a gender reveal I can get behind.
Congratulations to Alex and Brett on their new addition!
Share this heartwarming story on Facebook.