One of the best things about a wedding is that all your dearly beloved are gathered in one place, able to see you marry the person you love on what should be the happiest day of your life.
Sadly, though, it's not always the case. Sometimes, people who should be there aren't. Grandparents, mothers, fathers… if they've already left this earth then weddings can be a day of mournful reflection, as well as happiness.
For one bride, Andrea, that was the reality. Shortly before her big day, her father unexpectedly passed away, leaving her in wretched sorrow. At the reception of her wedding, however, her brother knew exactly what to do to ensure a fitting tribute was delivered. The first-dance tribute he organized was emotional, to say the least…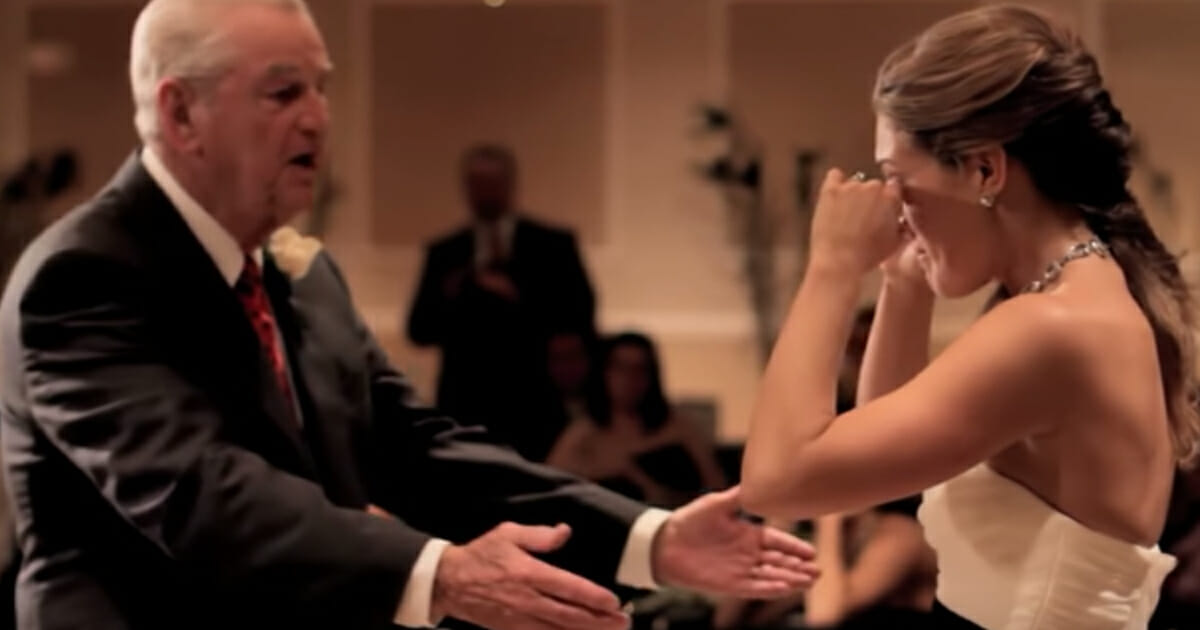 Andrea was set to marry the man of her dreams at the perfect wedding, but tragedy had other ideas. On the eve of her wedding day, her father lost his battle with cancer, leaving her stricken with grief.
Following the union, Andrea and her family gathered for the reception, in which, of course, it would be customary to have a father-bride first dance.
It was at that moment that Andrea's brother took the mic and delivered a heartfelt tribute.
"We're missing someone pretty important this evening that would be, obviously, here for the dance with his little girl," he said.
Visibly choking up, he continued: "So, I decided I wanted to do something special for Andrea and not only for Andrea but for dad."
Andrea's brother then revealed that he had recorded the song for the first dance in his own voice. Andrea herself was left speechless, cupping her hand to her mouth and wiping away the tears.
What followed was her brother announcing that the men of the family would take turns filling in for her father.
"Butterfly Kisses" played over the speakers and Andrea allowed herself to be swept off with the emotion. Her sorrow was counteracted by the love of the men dancing with her, all of them enjoying a responsibility that her father surely would have been proud of.
Grab the tissues and watch the video in question below:
It should go without saying that the video from Andrea's special day has been received with widespread positivity. Grief is a difficult opponent to overcome, but not half as powerful as love.
If you thought this tribute to Andrea's late father was touching, SHARE this article.