The half-brother of Ethan Crumbley, the 15-year-old charged with the shootings that left four students dead and a number of others injured on Tuesday, has said the teenager "seemed like an average kid".
According to reports, Crumbley opened fire with a semiautmatic pistol at around 1 p.m. at Oxford High School in Michigan. Police were able to apprehend the teen without a struggle, but not before he had changed a lot of lives forever.
The current death toll after Crumbley's rampage stands at four, with seven others injured.
Teenage students Tate Myre, 16, Hana St. Juliana, 14, and Madisyn Baldwin, 17, were pronounced dead on Tuesday in the wake of the attack. Myre, who is said to have tried to disarm Crumbley in the midst of the attack, passed away from his injuries while being rushed to the ER in a patrol car.
A fourth victim, 17-year-old Justin Shilling, died in hospital on Wednesday.
Yesterday Crumbley – who will be tried as an adult – was formally charged with murder, assault and weapons charges, as well one count of terrorism causing death.
As per reports, Ethan has refused to talk to authorities since his arrest, leaving many wondering what led him to commit the atrocity at Oxford High School.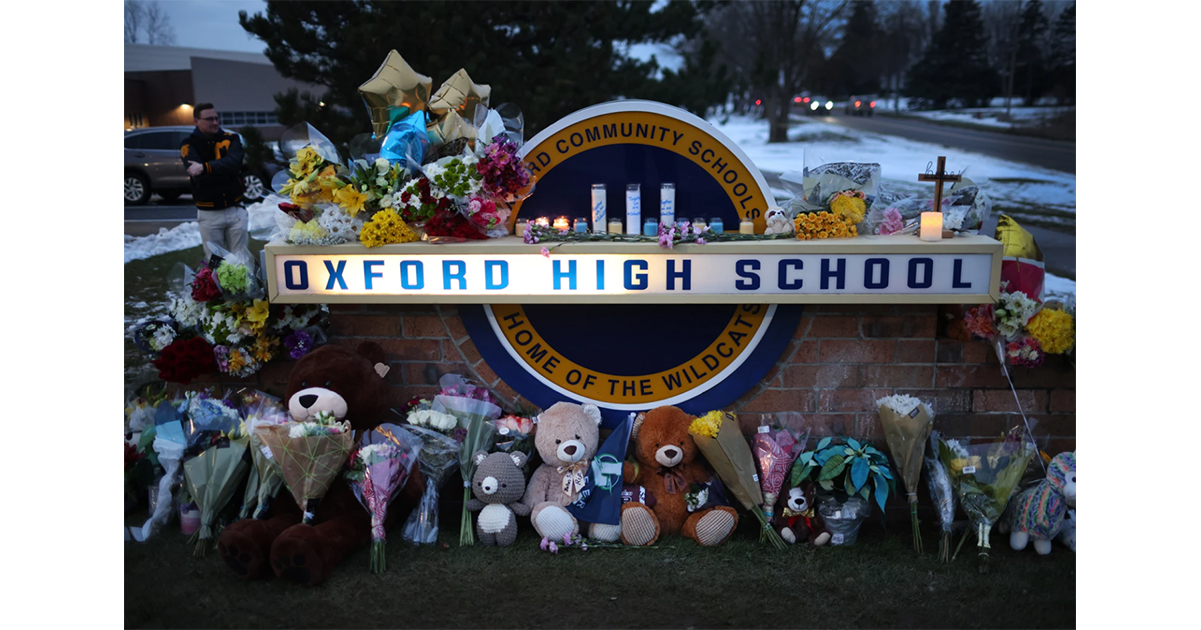 Certain other students at the school have gone on record in recent days to suggest that the 15-year-old suspect may have suffered from bullying. Crumbley's older half-brother meanwhile, 18-year-old Eli Crumbley, told the Daily Mail that knew Ethan to be a happy and quiet kid with no violent tendencies.
"The Ethan I knew was just a smart boy who just seemed like an average kid," Eli, who shares a father with Ethan, said.
"There was nothing that ever stood out to me. He'd never get suspended from school — or detention. 
"He didn't suffer depression or anything like that. He woke up happy, went to school, came home and played games."
As for a motive, Eli cast personal doubts on the idea that bullying might have been what led to Ethan snapping, stating that the 15-year-old had never been picked on as a child.
"I really don't know what his reasoning was behind this," he said. "I would like to talk to him but I don't think that's something that's going to happen for a while."
He later added: "As far as I knew, Ethan was always good. He was just quiet, kept to himself, kept his circle of friends small. He was a clean kid, didn't smoke or do drugs, nothing.
"And he got good grades. He wanted to be an archaeologist. When I was living there, nothing seemed off. We'd just walk to the bus stop in the morning, go to school, come home, maybe play some football outside or basketball. We'd just chill, wouldn't do much."
According to reports, the gun used in the attack, a 9mm semiautomatic handgun, was purchased by Ethan's father last week on Black Friday.
My thoughts and prayers go out to the victims of this terrible attack! I pray that those who are injured go on to make full recoveries.
Share this article if you, too, want to pray that this never happens again.
What do you think can be done to help stop shootings such as this taking place in the U.S.? Let us know your thoughts in the comments box.