Nothing gets the patriotic blood flowing quite like a barnstorming rendition of the national anthem.
Just ask anyone who's watched the performance by Jackson Dean Nicholson, a senior defensive end at Arundel High School, Maryland.
We're not talking about his in-game performance, mind, but rather his pre-game delivery of the Star-Spangled Banner, one that not only wowed the home crowd, but is also now impressing thousands of people online.
Dressed in his football uniform, Nicholson stood alone in the middle of the pitch, armed only with an acoustic guitar and a microphone.
He promptly gave one of the best versions of the U.S. national anthem we've ever heard, so it's no surprise that the video has turned out to be a viral hit.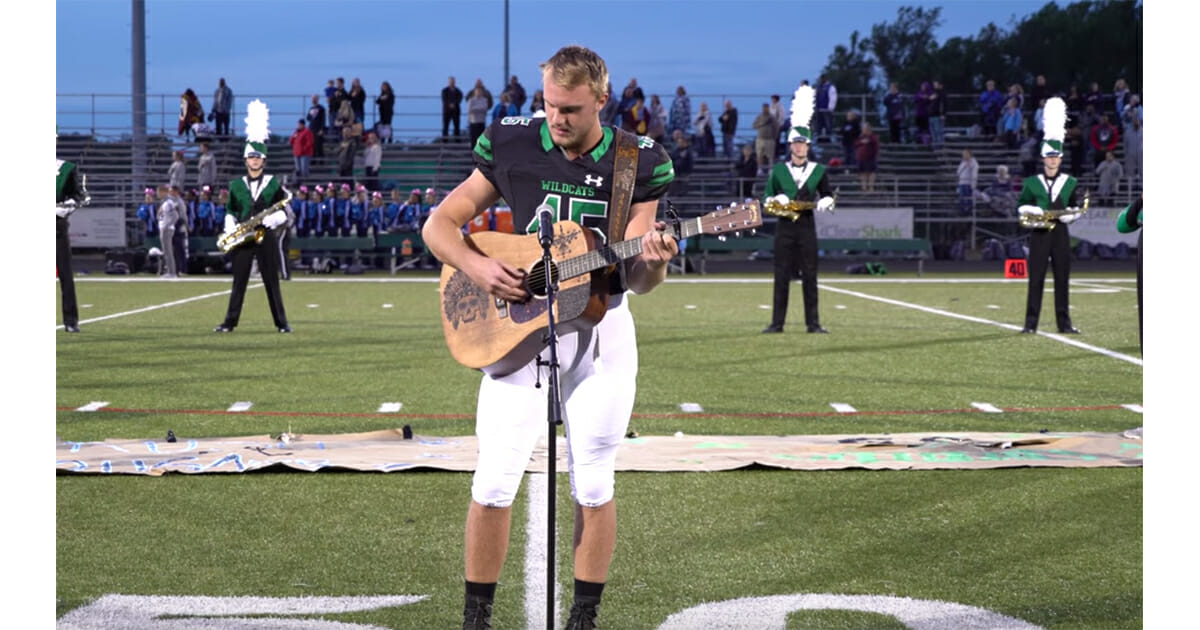 Since it was uploaded to social media last Friday, it's been watched by thousands on Facebook, YouTube and Twitter, and has even been picked up by some Country Radio Stations.
"It was very cool. I probably knew 90 percent of the people sitting in those stands, and they had no idea I was doing it 'til I brought my guitar out," Nicholson explained to the Baltimore Sun.
Watch the breathtaking performance below:
Whilst he might star as a senior defensive end for now, it's music that's Nicholson's true passion in life. He's been writing and singing songs since he was a freshman, and is currently working on his own album.
Given that there's already a pretty famous guy named Jack Nicholson, he's adopted the stage name Jackson Dean.
Speaking on his football career, Jackson said: "This is my last year, then I'm done. I've got until January, I'll have all my credits done, and I only have to be enrolled for this semester. I got a waiver by my principal and she's very supportive of what I do.
"I'm going to go for it."
Thank you everyone sending clips from the radio. Pretty amazing! Looks like my rendition of the National Anthem has made it to Texas, Florida, Indiana, Louisiana, Mississippi, Hawaii,… https://t.co/tptKnIw4Cy

— JacksonDean (@TheJacksonDean) October 23, 2018
And by "go for it", Jackson means he's heading to Nashville to officially launch his music career. He's already got a few meetings lined up that he's not allowed to disclose, so we guess it's a matter of 'watch this space'.
Remember the name … Jackson Dean.
We simply can't get over how good Jackson's performance was, and we want as many people to see it as possible.
If you thought Jackson's effort was brilliant, share this article to show your support!