Joe Biden hasn't yet won the United States presidential election, but he's received the highest number of votes ever, as per the Associated Press.
The source says the 77-year-old Democratic candidate, who served as vice president to Barack Obama, has garnered more than 72,000,000 votes, which gives him comfortably more than Obama's 2008 vote of 69,498,516.
At the time of writing, Biden is ahead of political rival Donald Trump in terms of popular votes, though of course the race will ultimately be decided by who gets the most electoral votes.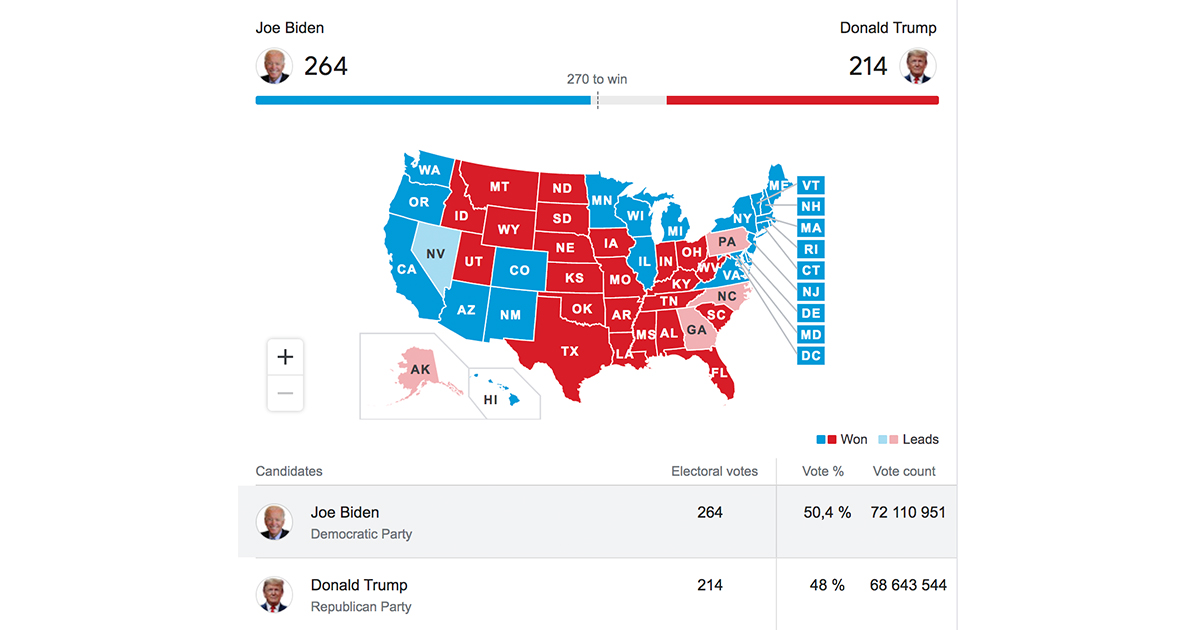 Just now, the Democrats have managed to win 264 electoral votes – they need 270 to win the presidency – while Trump's Republicans have 214, though they're expected to get more as the last few states are counted.
Reports claim that it could yet be days before we know for sure who will sit in the White House for the next four years, with an untold number of mail-in votes still to be counted.
For example, the total postal vote numbers for Nevada and Alaska aren't expected to be in until Tuesday, November 10, while North Carolina won't be all accounted for until November 12.
In any case, it seems as though the country is in for plenty of controversy in the coming days. Donald Trump has already promised to take the matter to the Supreme Court if the vote is close, while he told his supporters yesterday that he had already won.
Biden, meanwhile, stopped short of saying that victory for the Democrats was assured, but did say he was confident of bringing the result home.
With plenty of votes left to be counted, who do you think will win the 2020 election? Let us know your views in the comments box.
Meanwhile, share this article on Facebook to keep the debate going.