President Joe Biden confirmed yesterday (Wednesday, January 20) that Donald Trump had left him a "very generous letter" before he departed the White House, despite the former having refused to concede the presidential election.
Much has been made of the way Trump handed over the reins to his successor – he famously opted to break away from tradition in not attending Biden's inauguration ceremony yesterday.
Neither did Melania Trump give Jill Biden the customary tour of the White House that has been a mainstay in the presidential transition for the better part of the last 70 years.
With that in mind, news that Trump left his successor a letter has come as quite the shock to many. But come it did, with Biden having told reporters that he would not be sharing the details of it yet due to its private nature.
Speaking from the Oval Office after signing his Day One executive orders, Biden said:
"The President wrote a very generous letter. Because it was private, I will not talk about it until I talk to him, but it was generous."
An aide who had worked closely with the former president reportedly told CNN that the letter Trump left was a "personal note" praying for the success of the United States moving forward and asking that the new administration take care of the country.
Said aide also clarified that Trump had written the letter in the Oval Office on Tuesday night. Another aide added that the outgoing president had not shown the letter to many.
In writing the letter, Trump fell in line with a traditional expectation, even if he's made his name by subverting virtually all others. As to why that is the case, CNN speculate that he had a particular affinity to that particular routine.
The former POTUS was said to have been so taken with the letter that Barack Obama left for him in 2017, that he tried to call him as soon as he had read it. Obama, however, was flying to Palm Springs on Air Force One, and so couldn't take the call.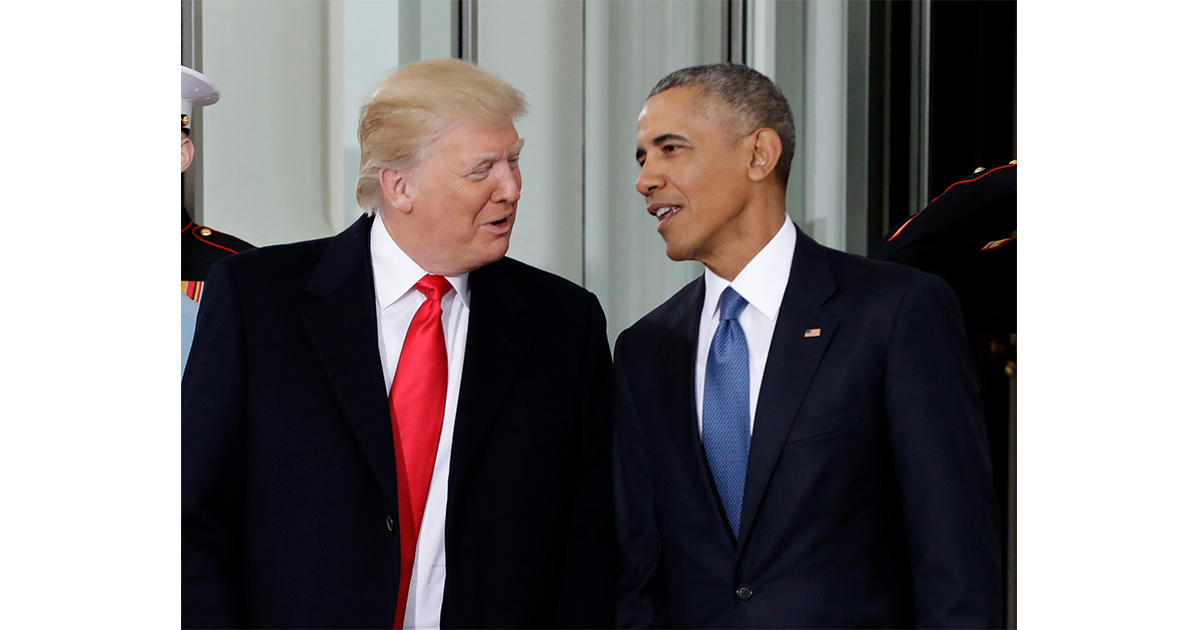 "It was long. It was complex. It was thoughtful," Trump said of the letter at the time. "And it took time to do it, and I appreciated it."
A new hope
Trump, meanwhile, struck an unfamiliar tone during his farewell address yesterday before leaving Washington for Florida. The 74-year-old wished the incoming administration "great luck and great success," though did promise followers that he would be back in some capacity.
That latter sentence might be of some interest moving forward, especially after speculation this week has indicated that Trump may well break ties with the Republican party and go on to forge his own movement.
Rumours over the planned birth of the "Patriot Party" are rife, which Trump seemingly believes can rival the Republicans and Democrats moving forward.
Indeed, recent months have shown that Trump does have a veritable army of hardcore followers who would more than likely be willing to follow him in any such endeavor.
At the same time, forging a party that can hang with the two big boys of American politics will be far from an easy task, even with Trump's past history of upsetting the odds and doing what people believe he can't.
Biden's White House
In any case, the U.S. wakes up this morning with a sense of change and a new figurehead in the White House.
Biden has already reversed some of Trump's most controversial decisions, including pledging to rejoin the international fight against climate change via the Paris Agreement, and directing the government to rejoin the World Health Organization (which Trump withdrew from earlier this year).
In his speech yesterday, Biden called for America to come together and heal following the chaos that has ruled the country over the last few months.
He said: "without unity, there is no peace," and asked detractors to: "Hear me out as we move forward."
He also triumphantly declared:
"The will of the people has been heard and the will of the people has been heeded.
"We have learned again that democracy is precious.
"Democracy is fragile.
"And at this hour, my friends, democracy has prevailed."
What do you think of the transition from Donald Trump's administration to Joe Biden's? How will America look four years from now?
Let us know all your thoughts on both presidents in the comments box below.
Meanwhile, share this article if you're praying for four years of peace and stability in the United States.