There are few periods in your life that can compare to the excitement of expecting a baby.
Of course, at the same time, knowing you're pregnant – or that your wife is – can also bring nerves and anxiety. What if something is wrong with the baby? What if there are complications when it comes to the birth? Obviously no one likes to consider these things, but, as they say, forewarned is forearmed.
So it was with one young couple expecting their son, who they planned to name Brody. At their 24-week ultrasound, the were informed of a complication. The doctor then asked them if they wanted to abort the baby or consider other options …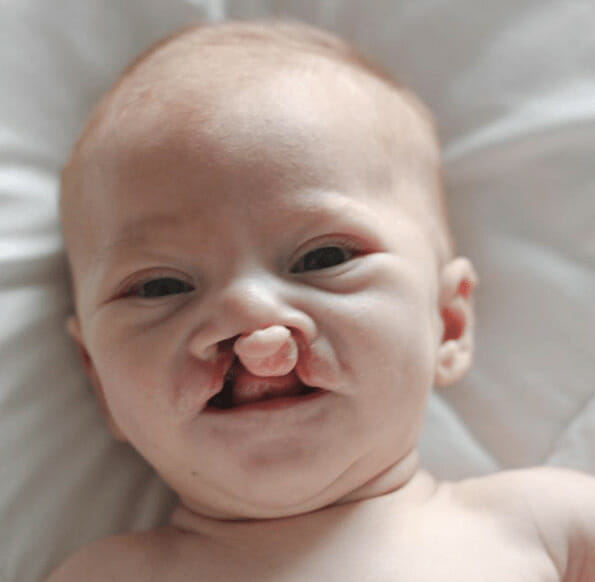 Sara Heller and her partner Chris were informed that Brody had a bilateral cleft lip and palate. The doctor told them that he would be born with this deformation, and that it could cause him issues with his health.
The doctor then proceeded to ask them if they wanted to keep him.
For Sara and Chris, it wasn't a question at all. Of course they wanted to keep their baby! They didn't care if he looked different, and were ready to provide the help he might need if he encountered problems with his health after being born.
What's more, it was their aim to spread awareness of deformities and defects that can affect newborns.
"It is OK to be proud of your baby no matter the circumstances," Sara said, as per HeartEternal.
"We wanted to change what ultrasound/newborn/first year pictures on our Facebook/Instagram accounts looked like. We wanted to spread awareness of cleft lips and palates."
Of course, that's not to say Brody's condition didn't require extra care. Cleft lips and palate can make it hard for a baby to eat, drink, smile, and sometimes even to breathe. Kids with cleft lip often need therapy to learn to talk and eat.
Experts are not sure what causes cleft lips and palates, which occurs when the tissues don't fuse during pregnancy. According to Centers for Disease Control and Prevention, 2,650 babies are born with a cleft palate in the US every year. 4,440 babies are born with a cleft lip with or without the cleft palate.
Sara received plenty of messages asking what was wrong with her baby's face, but used them as the perfect way to educate others.
A few days before New Year's Eve, a person on Instagram asked Heller "What's wrong with his face?"
"I decided to educate rather than create a confrontation because that is what I want Brody to do in the future," she said.
"I will want him to educate, to be an advocate for younger cleft kids who don't have their own voice yet."
However, there have been instances of outstanding kindness that Sara has witnessed too. She told how a stranger in a restaurant handed her a folded piece of paper containing a check for $1,000.
A note with it read, "for the beautiful baby."
Sara and Chris put the money towards Brody's medical expenses, and the surgery he needed to repair his lip.
Last year, the little boy underwent said surgery, and is now recovering well.
Though he will likely have to undergo a few more surgeries yet, he's happy and content.
"This experience has shown us just how strong the cleft community is. We've been contacted by people all over the country … they are praying for us and asking us to reach out if we need anything."
I don't know about you, but I feel inspired by Sara and Chris, not to mention little Brody.
If you think all children deserve a chance in life – no matter their appearance – show your support by sharing this article on Facebook.