As mothers and fathers, there's next to nothing we wouldn't do to keep our children safe from harm.
From the very moment you realize you're carrying a human life, you take on a new level of responsibility that you wouldn't have known was even possible.
That responsibility includes doing whatever it takes to ensure your baby's safety – and yes, that counts for the months prior to which they're actually born.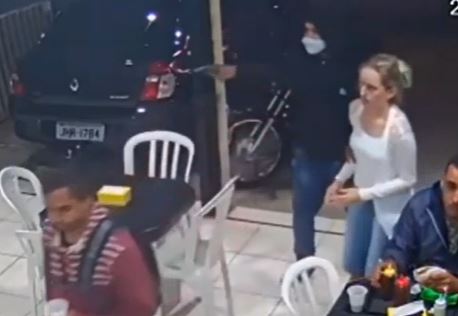 A pregnant mother in Brazil has made headlines after courageously risking her own life to protect her young son when a gunman opened fire close to a restaurant.
As per reports, Rafael Dantas was having a meal with her husband, son and friends in the Federal District town of Recanto das Emas when gunfire rang out in the night on January 24.
The first Dantas knew of any brewing trouble was when she saw two customers at the restaurant having what appeared to be a disagreement with two other people.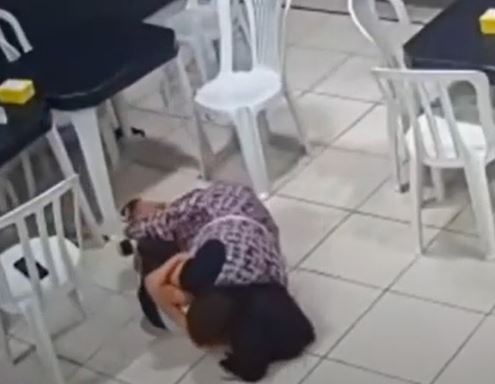 CCTV footage at the establishment caught sight of two suspects entering the restaurant and making sure the customers couldn't leave. They drew weapons.
One of the suspects can be seen pointing his gun at the customers, before a hero leaps forward to push the other assailant back. During the chaos that ensues, a shot is fired – which thankfully misses everyone.
It's then that pregnant mom Rafael Dantas grabs her son and pulls him to the floor, using her own body as a shield turned towards the attackers. The suspects stole two phones belonging to the family, and then fled.
Watch the terrifying footage below:
As per Brazilian source G1, Dantas recalled the events as follows:
"It is something we never expect to happen. In the hour of despair there, the first reaction we have is quite impulsive.
"I thought about protecting my son. First thing, my son. Both, right? What's in my belly too. But, thank God, everything went well, no one was hurt.
"The cell phone was on the table, and my reaction was just to pull my son and protect him. Even because we do not know the reaction of a child. We, as an adult, already understand a little more, are already aware of the situation, which was putting our life at risk. The child, no. He may have the reaction of being surprised, and run away."
Police are said to be investigating the scene, but were yet to make any arrests as of Thursday.
What a brave mother Dantas truly is. She deserves all the praise in the world for moving to keep her children safe.
Please, share this article on Facebook if you think she's an example to be followed!