The majority of people spend their whole lives looking forward to the day they can retire.
What could be better than stopping the rigmarole of going to work, day in day out; what's more appealing than being able to do whatever you want with the money you've (hopefully) been saving your entire life?
Put frankly, there isn't much we can think of. Of course, it would be improved if it wasn't at a stage of your life where you lack the energy and vigour you once had, but since it's not possible to have it that way there's no point dwelling on the topic.
For most retirees, the question isn't if they can enjoy retirement, but rather how to enjoy retirement. It's a question 70-year-old Greg Flint knew exactly how to answer, and it all began with selling his house …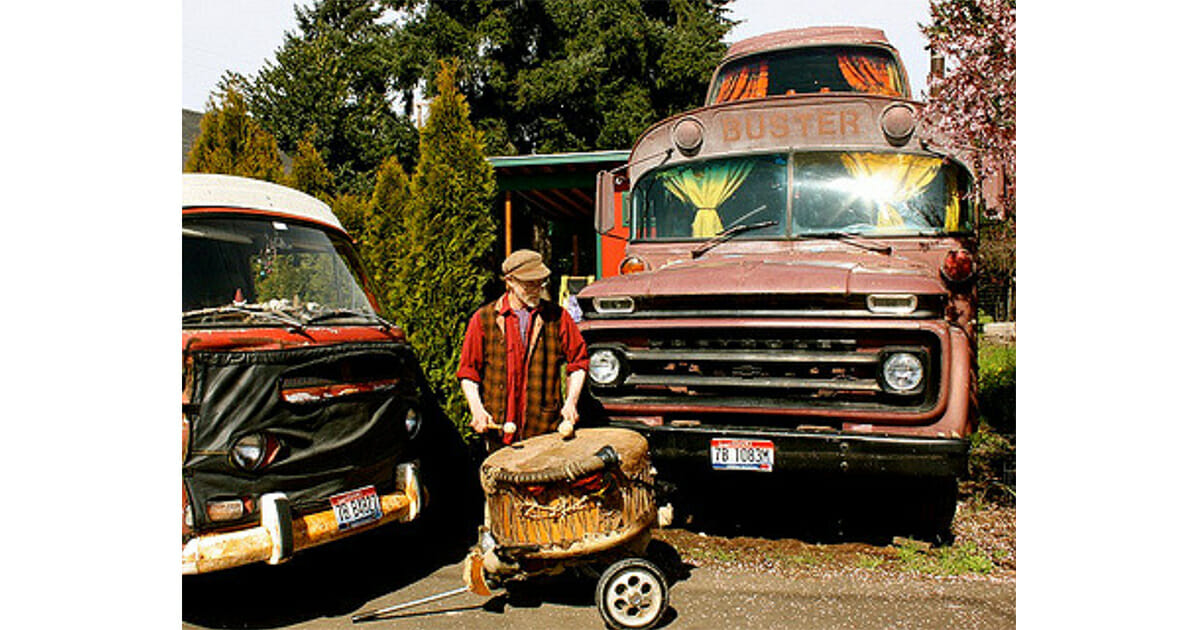 A skilled builder and stonemason, Flint turned his skills towards helping a couple he happened to be friends with. They had an old, beaten-down bus named "Buster", and the plan was to drive Buster to Mexico on a road-trip once Flint's work was done.
Fate intervenes
As fate would have it, however, the couple went their separate ways, and Flint was left with a peculiar feeling in the pit of his stomach.
He offered the couple money for Buster, but to his surprise they refused to take it.
Flint told SmallerLiving: "I've always loved small homes on wheels. I wanted simplicity, economy, less stuff."
"I had fallen in love with Buster and had a vision for its transformation. I asked to buy it, and they gave it to me!"
Now, Flint had an old bus on his hands, a whole lot of skill and a whole lot of time. If you're wondering what the sum of that equation might be, you're in for a treat.
"Busters" renovation
The 70-year-old began a renovation that will transport you to another place entirely …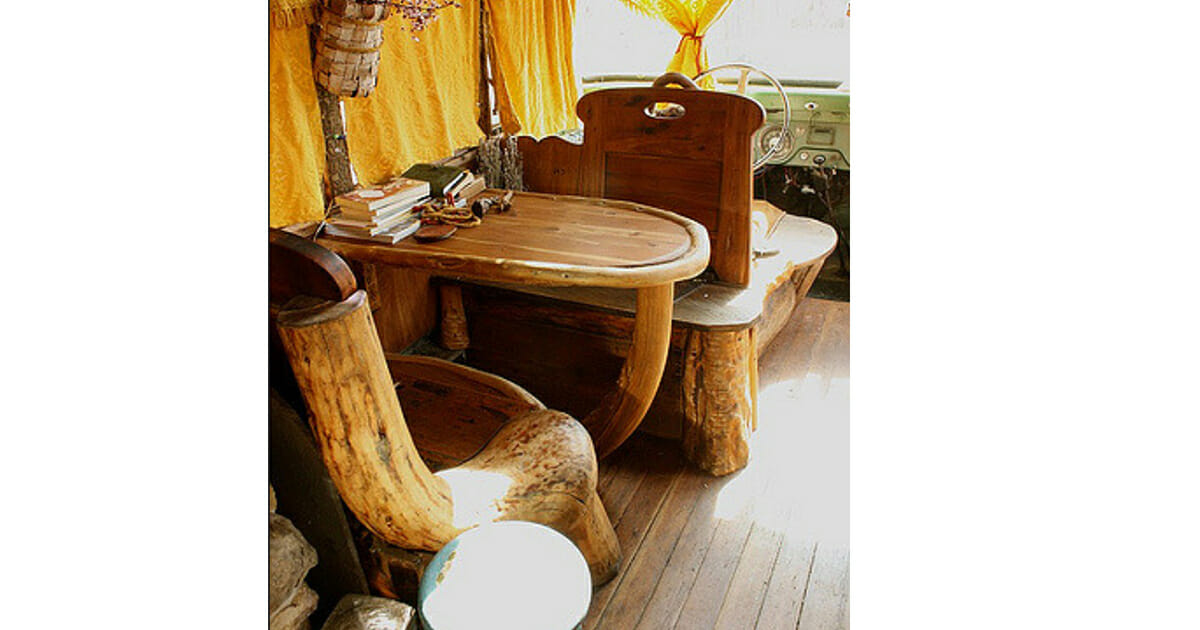 Any who step foot inside the 30-foot long 1965 Chevy bus are immediately struck by the vehicle's new interior, which isn't a million miles away from being inspired by the decor in Bilbo Baggins' hobbit hole in the Lord of the Rings.
Complete with chairs, tables and dressers carved exquisitely from wood, Flint's bus has all the feel of a cozy old home in the woods … excepting of course that it's on wheels.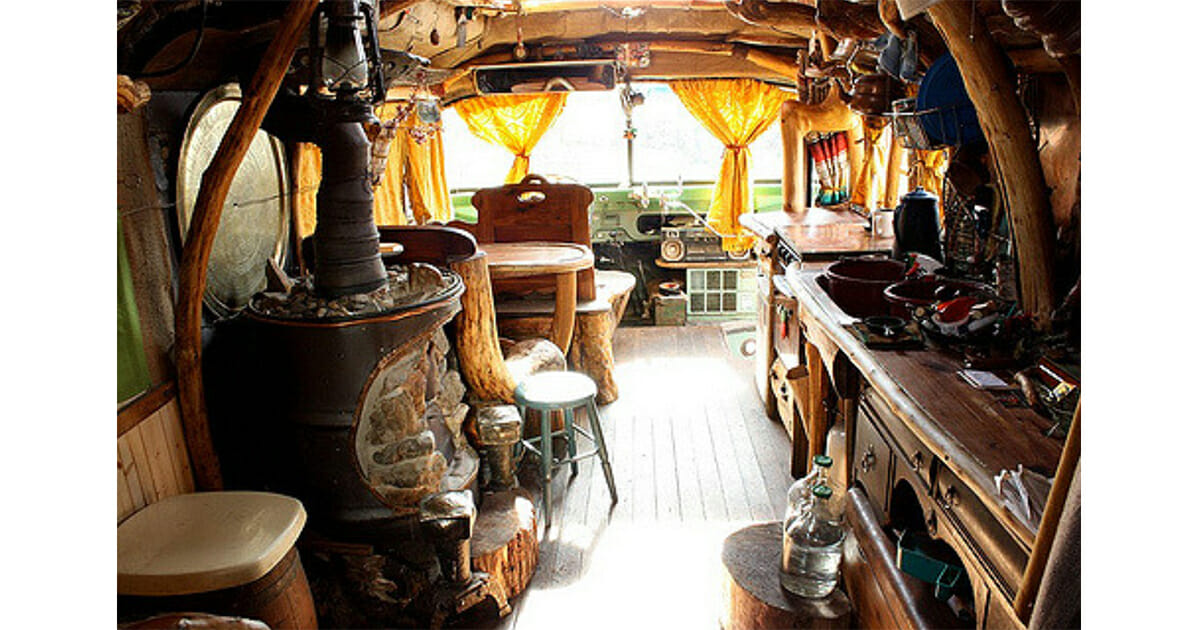 There's a fully functional kitchen, including a sink, dishwasher and oven, as well as anything one might need to be content on the road.
He says: "Without Buster and this trade arrangement, I would have a very hard time living on my small fixed income."
Explaining his process, Flint continued: "I redid the whole interior to create an organic curving and flowing light-filled room using cedar trees bent by time and weather conditions.
"The counter tops and kitchen table and bench backs were all made from an old cedar chest that was a gift from my daughter. The floor is redone with salvaged tongue and groove planks."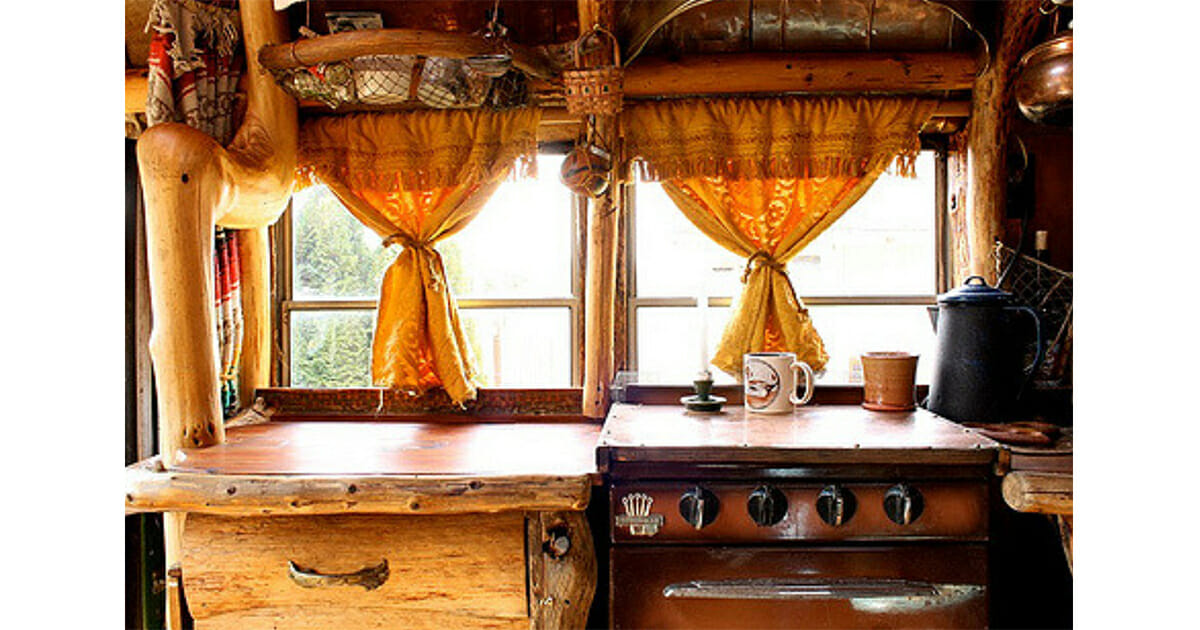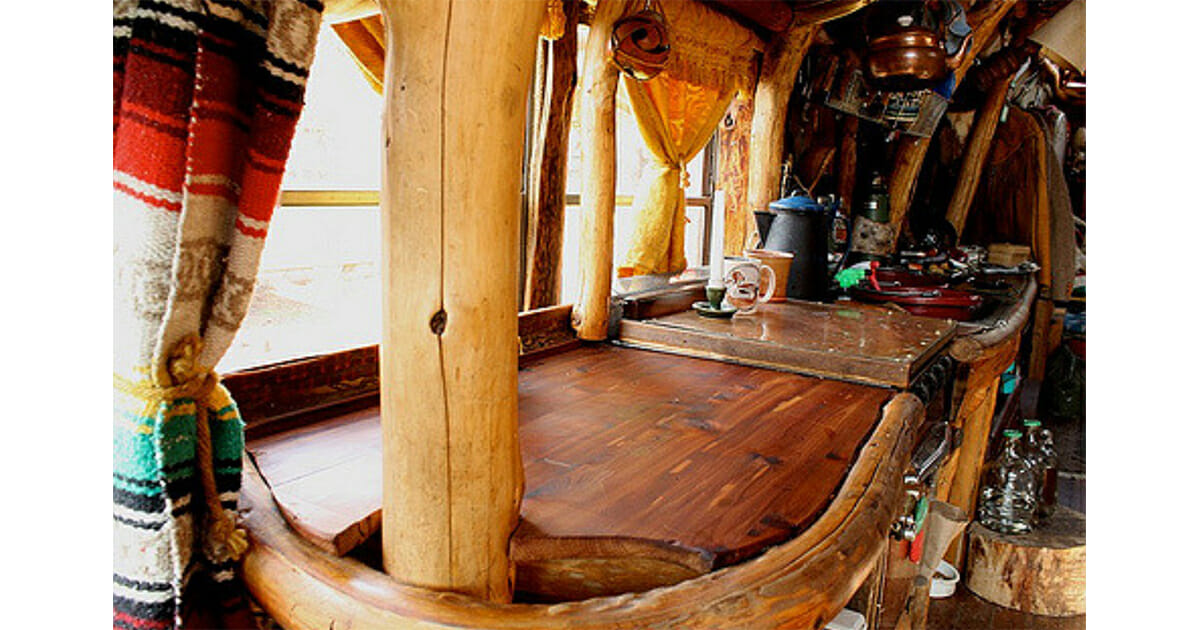 To further impress, Flint opted to work a fireplace into his plans as well. He knows how cold it can get during the winter months in Idaho, so decided to do something about it.
"Buster once had an iron woodstove, but it overheated the small space when burning and left me freezing when the fire went out. I built a soapstone fireplace stove. It does not overheat the space plus, after two or three hours of burning, I can let the fire go out, shut everything down, and the soapstone continues to radiate heat all night."
I only wish I was half as skilled with my hands as Greg Flint is. He certainly has the dream retirement home! 
If you thought the inside of Greg's bus was impressive, share this article on Facebook!