A man who died by suicide after leaping to his death at Disneyland was a school principal due in court for child endangerment, according to reports.
The New York Post say that Christopher Christensen, 51, was to appear in court on Monday.
He had been principal of Huntington Beach elementary schools for 22 years, but his professional position was in jeopardy after an incident at his home on November 15. In his suicide note, which he posted to Facebook, Christopher blasted the charges of child endangerment and battery.
As per the NY Post, court records reveal that he was due in court for a pre-trial conference this week for the two aforementioned misdemeanors. In his social media post, Christopher directly blamed the charges for his decision to jump from the Mickey & Friends parking garage at Disneyland.
"I hate when people leave this Earth with so many unanswered questions. So, I hope this provides some insight and perspective," Christopher, a one-time "administrator of the year" wrote on his Facebook page.
He explained that the woman he had argued with was in fact his wife, writing: "Yes, you heard me correctly. Most of you don't know this but we privately married 3 ½ years ago.
"Marlena and I love and adore each other and our relationship has been amazing … up until recently," he wrote alongside photos of them on their wedding day.
"Unfortunately, two weeks ago she and I got into a heated argument at home in front of the girls. Tempers were flared and strong words were exchanged between us. However, never in this exchange did I hit, slap, or hurt Marlena in any manner. Nor did I ever touch the girls (I never have and never will). I love the girls like my own and they know that, as does everyone else who truly knows me."
READ MORE
Christopher went on: "Unfortunately, Marlena's anger got the best of her that night and she called the police, which landed me in jail that night. Yes, me! A man who has never hit or harmed ANYONE in his life!"
Of being arrested and charged with two misdemeanors, he explained how he was on the brink of losing his job.
"I am out on administrative leave until my case is 'resolved,'" he said.
"However, the legal system is extremely flawed (especially against men/fathers) and it's sickening how quickly and easily an innocent man can be thrown in jail based on zero evidence or proof!
"So, here I am … writing my final FB post to all of you."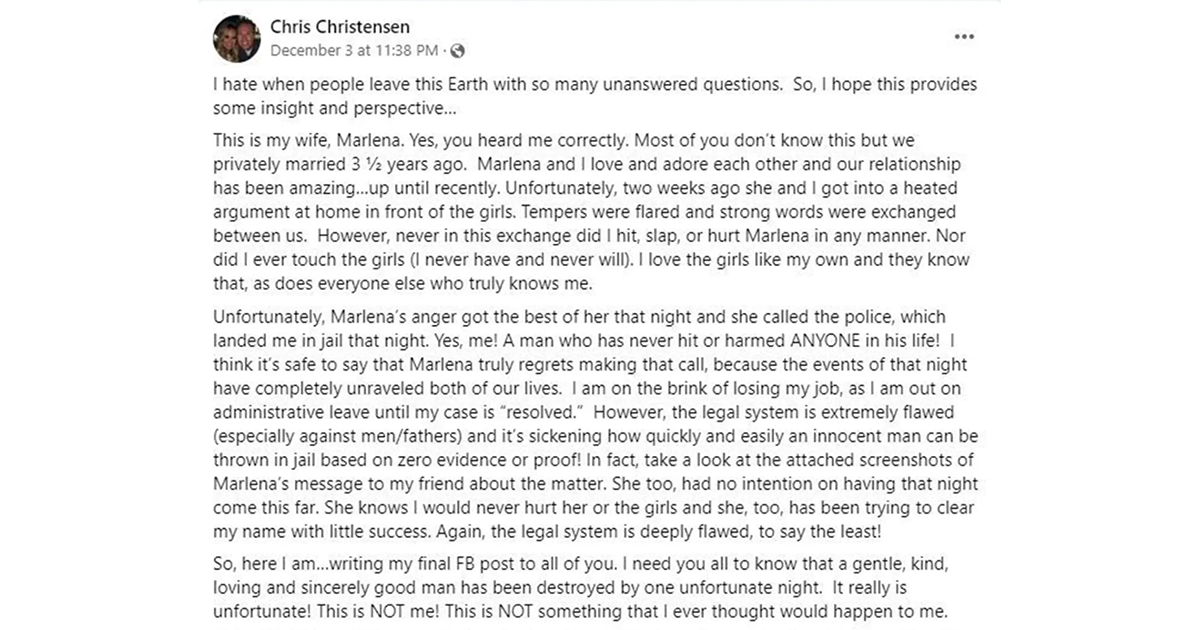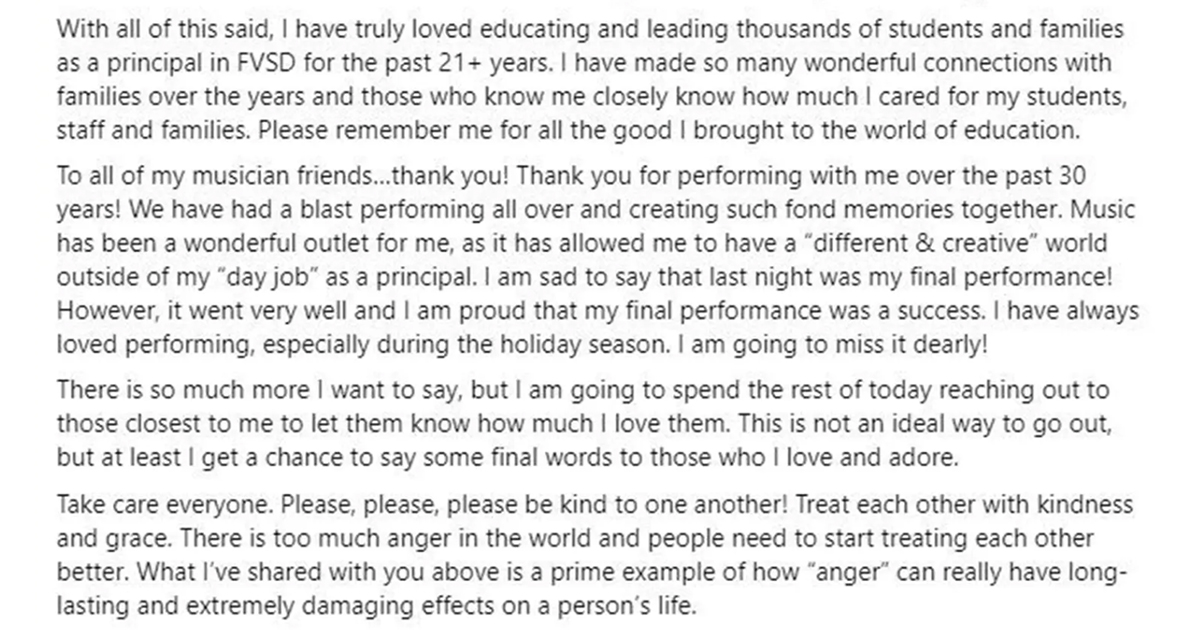 Later in the post, the principal wrote: "Please remember me for all the good I brought to the world of education."
"There is so much more I want to say, but I am going to spend the rest of today reaching out to those closest to me to let them know how much I love them."
As per reports, the alleged incident happened on November 15. Christopher was released on November 17 after posting a bond of $10,000. He pleaded not guilty to child endangerment and battery during his arraignment on Nov. 22.
Rest in peace, Christopher. Such a sad end to a truly sad story.
Our thoughts are with his family at this terrible time. God only knows the pain and confusion they must be feeling right now.
Please, share this article to send love and prayers where they're needed.