Richard Canales Calles had one goal – be the first in his family to graduate from high school.
He was on track to graduate with his classmates at Lennard High School in Ruskin, Florida until doctors told him the cancer he had been fighting since 2018 was no longer treatable. He would have to go into hospice care.
Despite the devastating news, Calles was still determined to graduate. He wanted to "make his mother proud."
And on March 25, the teen received his diploma.
In August 2018, Calles was diagnosed with bone cancer. He underwent countless tests, hospitalizations, and treatments all while continuing his education.
It was his determination to graduate that caught the attention of his teachers. When they heard Calles entered hospice care, they too were saddened by the news and wanted to do everything they could to makes Calles' dream become a reality.
With Calles' family, his high school principal, and other school officials present, the teen received his diploma.
WWE Superstar Titus O'Neil even made a surprise visit to congratulate Calles on his accomplishment.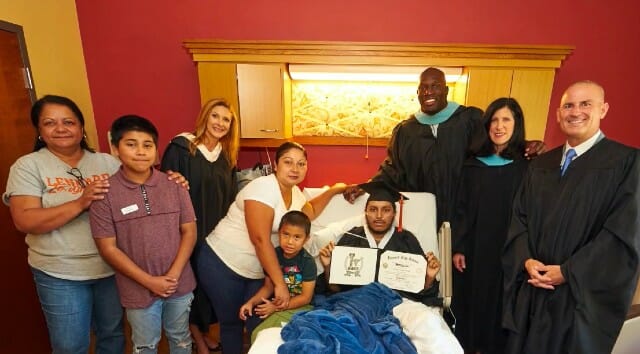 "When you get a chance to give a young man the diploma he has dreamed about his entire life, it was so emotion," School Superintendent Addison Davis said. "When we talk about life and all the pressing issues around us, this makes sure we look around us and know that we value life, that we value our family members and that we value each other. These are the moments that we will remember forever."
Congratulations, Richard! Share this post to congratulate him on his lifelong dream.