Juan Carlos La Verde, known as JC Defeats, has been called a "walking miracle" after surviving a vicious alligator attack earlier this month.
The Florida native was filming an instructional video in Lake Thonotosassa, about 20 miles north of Tampa, for his company DefeatX when he unknowingly crossed paths with a 12-foot alligator.
A friend, who was using a drone to film the video, captured the frightening encounter from above.
"I always preach mitigated risk, and that day I failed, and it went completely out the window," he told Fox 13 News.
JC was in such a rush to film that day that he forgot his swim cap, goggles, and he neglected to perform any of his usual safety percautions.
Moments after the 34-year-old former Air Force pararescueman and current firefighter and paramedic started swimming in the lake, a large alligator darted towards him.
He immediately knew what was happening and began to act.
"An unbelievable amount of faith in myself that I wasn't going to die," he recalled. "I was going to be OK, but I needed to act for sure."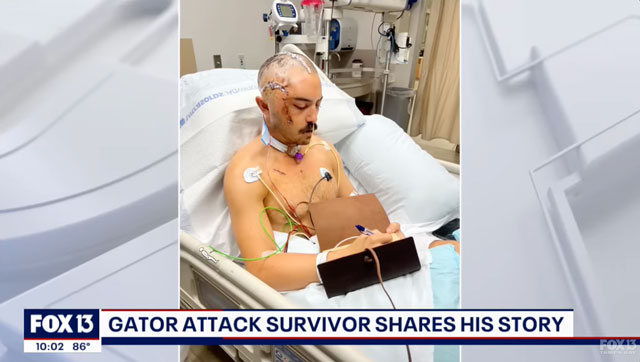 "With the right stroke, all I felt was scales, teeth and then right there I'm like okay. So, what I think I did, what I felt like I did, was that I immediately tried to open its jaws because I knew I was in a gator," JC said.
The two struggled and flipped, but eventually JC was able to free himself from the gator's jaws.
He swam to the dock where he lifted himself out of the water and a nearby good Samaritan drove him to the hospital.
Continuing to add to the unbelievability of it all, JC called 911 as he was being driven to the hospital.
All the while, he called 911 himself and explained what happened.
"I am not going to put extra stress on somebody that is already driving a bloody man somewhere. Like if I can ease that load off of this lady," he said.
Road to recovery
His wife has called him a "walking miracle."
The alligator crushed JC's skull and punctured his brain. He underwent a six-hour emergency surgery and spent eight days in the hospital before he was discharged.
His jaw is currently wired shut and he needs to wear a helmet to protect his head, but JC is confident he will recover.
"I am perfectly fine. I am actually even better because this gave me a new perspective, you know, and not many people get that," he said.
As he continues on the long road to recovery, he's asking others to "find your God" because "life is a scary place," and sometimes you need someone else to help you carry the load.
"I'm asking you to be tough because the world is a really difficult place, and, man, is it challenging to maneuver without God and ultimately Jesus Christ in your heart."
It is a miracle that JC survived! I'm so glad he seems so positive about the entire ordeal as well. I hope this helps him in his recovery.
Please share and send your well wishes to JC.