Phoenix Da'Vine was born with a dangerous heart condition, which led her to go into cardiac arrest when she was just seven months old.
"She was blue. I shook her face and lifted her arm up, it went limp," her mom, Monique Goldring, said.
As a result, she suffered major brain damage and was put on life support. But months later, after being taken off life support, Phoenix is still fighting and she's about to celebrate a major milestone.
In April, after she suffered a medical emergency which put her on life support, Monique made the difficult decision to take her baby off life support and put her on hospice care.
"I prayed. I asked her to let me know if she's tired," Monique said. "She turned around and looked directly at me. That's when I knew she was tired."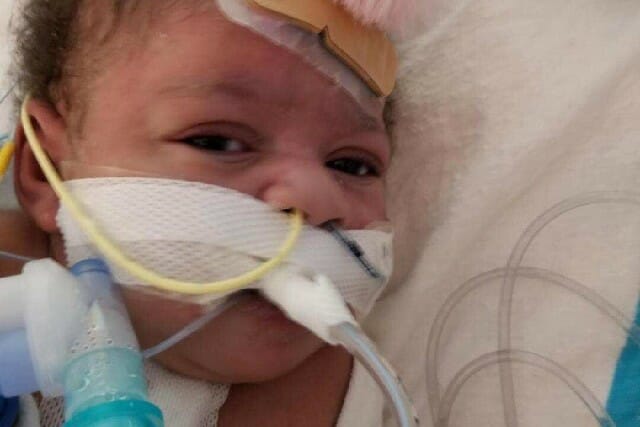 Doctors informed her that her little girl would have roughly six hours left to live once the ventilator helping her breathe was removed.
Hour by hour past and Phoenix continued to thrive. When the sixth hour came and went the eight-month-old was still alive.
"From that point on, she just continued to thrive," her mom said according to a report by CNN.
As weeks turned into months, Phoenix continued to defy the odds. The little girl, who was born with Double Outlet Right Ventricle (DORV) and would require multiple palliative surgeries, was not about to give up.
Currently, Phoenix relies on oxygen, feeding tubes, and around the clock medication, and soon she will need surgery to replace a shunt in her heart. If she outgrows her current shunt, it will be fatal.
She's already had two of four necessary palliative surgeries.
"I am desperately hoping that somebody will look at her case and perform this surgery on her," she told WJLA. "The doctors say she won't walk, won't talk. I stress that she may not be doing those things right now but I was also told that she would be gone in six hours. So, I am going to just sit back and watch her thrive."
Her mom is hopeful for her daughter's future and focused on celebrating each milestone her daughter reaches, like her upcoming first birthday.
"Falling apart about it is not going to change the circumstances," she said. "She's clearly not falling apart about it, so I get my strength from her daily."
A GoFundMe page has been set up to help pay for some of Phoenix's medical expenses, if you would like to help you can visit her page.
This baby is a little miracle! Doctors told her mother she wouldn't survive longer than six hours after she was taken off life support and look at her now.
I hope there is a doctor out there who is willing to take the chance and help Phoenix.
Share this beautiful story on Facebook and pray for Phoenix and her mom. They need our prayers.