Five people were killed and more than 40 people were injured when an SUV sped through a Christmas parade in Waukesha, Wisconsin Sunday.
Several of the victims included young children.
Reuters reported that Waukesha Police Chief Dan Thompson told reporters during a press conference that a suspect was in custody after the vehicle was located.
Several law enforcement officials confirmed to NBC News that Darrell Brooks, 39, of Wisconsin was in custody, though he had not been charged.
The investigation is still ongoing, and "at this time" investigators do not believe it was an act of terrorism. Police suspect the person of interest may have been fleeing a knife fight when he came upon the Christmas parade.
Both participants and those who were there to watch the parade described the chaotic moment when the SUV barreled down the parade route.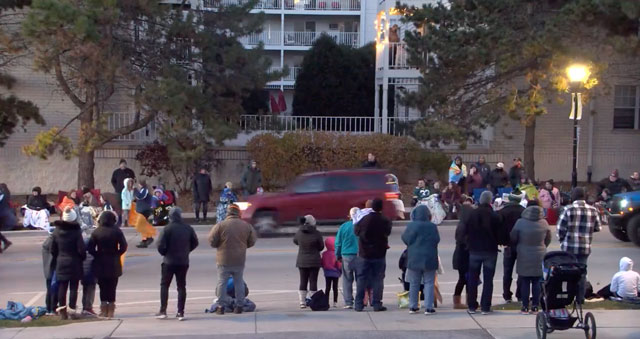 "The red SUV came barreling down the street — very, very high rate of speed and hit a pedestrian," Scott Greger, who watched the vehicle hit someone before hitting a float, said.
Jaymz Touchstone was watching his daughter's band march when he noticed the SUV swerve around a truck and then "accelerated through the band and down the street."
Touchstone attempted to go after the SUV, but then began administering first aid.
"The kid that I was rendering first aid to … his feet were crushed. They ran over both of his legs. He hit his legs, got trapped under the tire."
Some people may find the following video disturbing.
According to CBS News, an officer shot at the SUV in an attempt to stop the vehicle. Despite earlier reports of shots being fired from the vehicle, police do not believe the driver fired a weapon.
On Monday, a group called the Dancing Grannies, who performed at the parade, confirmed that several members had died.
CBS 58 reported that two members died, two were injured, and a husband who assisted the group was injured.
The Waukesha Police Department stated that the number of those who died and those who were injured may change as the hours and days go by.
Schools were closed in Waukesha on Monday, and counselors were available for those who needed additional help.
"My heart goes out to those injured as well as to their families," Waukesha Mayor Shawn Reilly said. "My heart goes out to those who are witness to these events. My heart goes out to those who lost a loved one tonight."
Wisconsin's Governor Tony Evers shared his thoughts and prayers with the community and thanked all who responded to the "senseless act."
He also ordered flags to be flown at half-staff.
My heart breaks for everyone in Waukesha. You think you're safe by going to a small town Christmas parade. It never occurs to you that you need to watch out for someone speeding through the parade.
Please send your prayers to all of the victims and their family.