The body of Sterling Holman, the 38-year-old father who jumped in the Neuse River to save his young son, has been found.
According to local reports, the father's body was located Wednesday afternoon, one week after he had gone missing.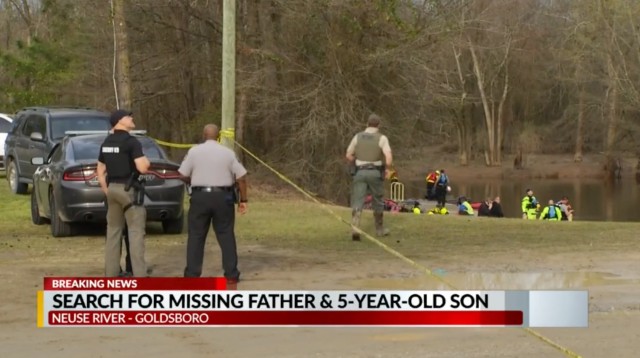 Sterling and his 5-year-old son, Braylin, were fishing on a dock at the Goldsboro Boating Access Area in Goldsboro, North Carolina when tragedy struck.
WNCN reports that on March 24 around 8 p.m. someone called 911 to report a child had slipped into the water and the father had gone in after them.
"The baby fell in the water and his daddy jumped in after him," the caller said. "The current pushed the baby away. The daddy jumped in the water behind him and our buddy was coming back with the boat to load our boat up and he went to go get him."
Emergency crews arrived to the scene and began searching the river and its banks, but by 2:30 a.m., the search turned up empty.
Days went by and the father and son remained missing until Monday when a "systematic search" was conducted and Braylin's body was recovered.
"We're going on quite a few days out here, and so we're definitely getting tired, but really just trying to see this mission through for the family," county spokesperson Joel Gillie said.
On Wednesday, crews located the child's father.
While not the outcome anyone hoped for, I hope the recovery of Sterling and Braylin's bodies brings some closure to the family.