At one point during last week's violent siege on the Capitol Officer Eugene Goodman was the only man standing between the angry mob and the United States Senate.
The brave officer lured the group away from where lawmakers were carrying out the final electoral count, trying to beat the rioters back several times as he radios for back up.
Members of Congress have now introduced a bill to award the officer with the Congressional Gold Medal for his bravery.
Reps. Emanuel Cleaver of Missouri, Charlie Crist of Florida and Nancy Mace, of South Carolina, introduced the bill Thursday.
"He's a hero!" Congressman Crist said. "The United States Capitol was under attack by armed, violent extremists, and Officer Eugene Goodman was the only thing standing between the mob and the United States Senate."
Video showing Officer Goodman leading the mob away from the senate went viral on social media.
He's seen as a lone police officer facing the rioters, beating them back as he radios for back up but the group continue to trail him up the stairs.
At one point he stops in the hall and looks to a door on his left leading to the Senate chambers, he then leads the mob of pro-Trump supporters to the right, away from the senate.
The 40-year-old officer, from Southeast Washington, is already a hero having served in the Army from 2002 to 2006. In his final year he was deployed to Iraq.
His awards include the Army Commendation Medal, Army Achievement Medal and Army Good Conduct Medal, as reported by Military.com.
Congresswoman Mace said that when Goodman "was the only thing standing between Members of Congress and the violent mob, he quickly and selflessly redirected their fury upon himself so those Members could escape.
"Thanks to his valor, we are here today," she continued. "From the bottom of my heart, I cannot thank him enough for his bravery and for his dedication to the call of duty."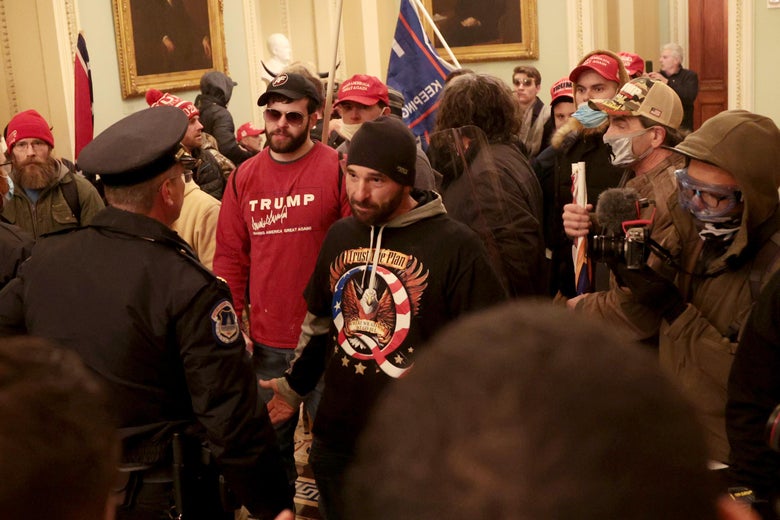 The man in a hoodie seen chasing Goodman up the stairs, Doug Jensen, was arrested for breaking into the Capitol and faces five federal charges, ABC News reports.
"In moments of crisis, there are always individuals who rise to the occasion and put themselves in harm's way in defense of others. On January 6, 2021, one of those individuals was Officer Eugene Goodman," Congressman Cleaver said.
"If not for the quick, decisive, and heroic actions from Officer Goodman, the tragedy of last week's insurrection could have multiplied in magnitude to levels never before seen in American history. With this prestigious award, we can show our gratitude to Officer Goodman for saving countless lives and defending our democracy."
I cannot imagine coming face to face with this mob alone; Officer Goodman not only kept them back and stayed calm but also kept our lawmakers safe.
He deserves this medal and so much more. Help us congratulate him by sharing this story.