Tributes have poured in after a high school baseball coach and his wife were electrocuted while installing a new scoreboard at the school's baseball field on March 10.
The incident occurred at Liberty High School while Coach Corey Crum and his wife Shana were heading up a group cleaning damage inflicted by Hurricane Michael.
According to reports, Coach Crum was initially electrocuted whilst operating a piece of equipment, with Shana, a health aide for the school district, also getting shocked when she attempted to help him …
A statement from the Liberty County Sheriff's Office read: "Coach Crum was operating a boom lift and unloading a piece of equipment from a trailer when the boom of the lift made contact with overhead power lines. This electrified the boom lift electrocuting Coach Crum.
"The Coach's wife then attempted to aid him and was also electrocuted. Their son also attempted to help the two, and he was electrocuted and injured."
Tragic deaths
Coach Crum and Shana were tragically killed in the incident, though their 14-year-old son remains in a stable condition in hospital.
"This is a tragic event which has rocked our community to its core. We ask for prayers and respect for the family, students and parents involved," said Liberty County Sheriff Joe White.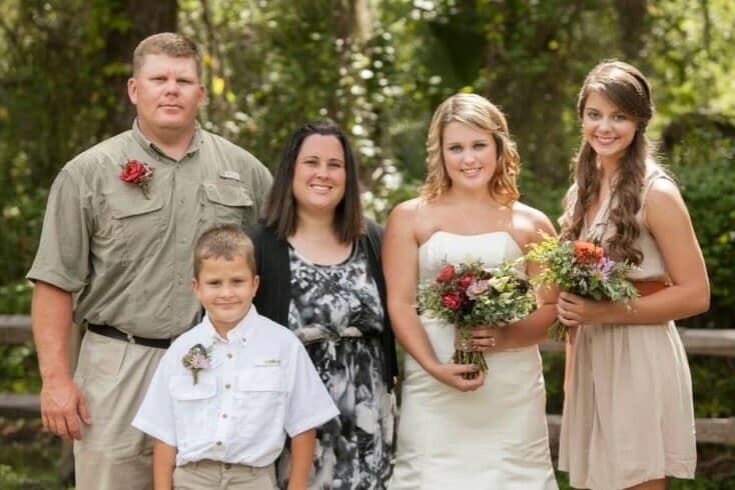 My heart aches tonight for our community. Coaches have special places in the hearts of each one they coach. Coach Crum…

Posted by Kyle Peddie on Sunday, 10 March 2019
Coach Crum's brother, Randall, visited the Liberty High School gym and told the players his brother would have wanted them to continue playing.
Liberty County School Board member Kyle Peddle, meanwhile, had nothing but praise for Coach Crum's work. "Coach Crum invested in our boys daily. They are better men because of it. We will recover…we trust the Lord, and we are Bulldogs!"
UPDATE: According to the Liberty County Sheriff's Office, Coach Corey Crum and his wife are the two people who were killed in the tragic accident. Their son is the teen who was injured.https://t.co/hyXRWJlEkY

— WMBB News 13 (@WMBBTV) March 11, 2019
Black ribbons were placed around the school on Monday in homage to the Crums, whilst their community is steadily trying to recover from the shock. A GoFundMe page has been set up to help their family.
Such a needless tragedy is never easy to come to terms with, and it's all we can do to send our thoughts and prayers in the direction of those affected.
Help us honor the memory of the Crums by sharing this article on Facebook.