An 18-year-old charged with shooting and killing two men at a protest against police brutality has reportedly gone missing.
Now prosecutors are seeking the arrest of Kyle Rittenhouse for violating his bail conditions.
The teenager from Illinois is charged with killing Joseph Rosenbaum and Anthony Huber, as well as injuring 22-year-old Gaige Grosskruetz, during the Wisconsin protest in the wake of Jacob Blake's death.
Jacob Blake was a 29-year-old Black man who was left partly paralyzed after a white police officer shot him repeatedly in the back outside an apartment complex in Wisconsin while his children watched from his car, as per CBS News.
After the protest Rittenhouse, who was 17 years old at the time, returned to his home state of Illinois to hand himself in.
He was held in a juvenile detention facility before posting $2 million bail, paid for by money that was raised by a number of far-right figures and supporters.
Now the Kenosha County District Attorney's Office said it doesn't know where Rittenhouse is with a motion stating he failed to let the court know of a change of address – a bond violation.
The 18-year-old's legal team filed a response, saying he and his family are at a "Safe House" due to threats, as per Fox News, but police officers are unable to find him.
Prosecutors are now requesting the court issue a warrant for Rittenhouse's arrest and to increase his bond by $200,000.
Kenosha County Assistant District Attorney Thomas Binger said, as per Fox News, Rittenhouse's address change is a serious matter, adding: "rarely does our community see accused murderers roaming about freely."
Binger continued: "It is important to note that the $2 million came from a dubious Internet fundraising campaign, and the defendant and his family did not post any money toward that bond. As a result, the defendant is free from custody with minimal incentive to comply with his bond conditions."
Rittenhouse, who pleaded not guilty to the charges on January 5, was reportedly seen going to a bar "immediately after his arraignment" and drinking 3 beers with known "Proud Boys" members while flashing white supremacist signs and wearing a 'Free as F*ck T-shirt'.
Upon his earlier release, Grosskreutz's lawyer Kimberley Motley said, as per the Chicago Tribune, "Two people died. My client nearly died and nearly lost his arm due to Rittenhouse's reckless behavior. I do believe that he is a danger to the public."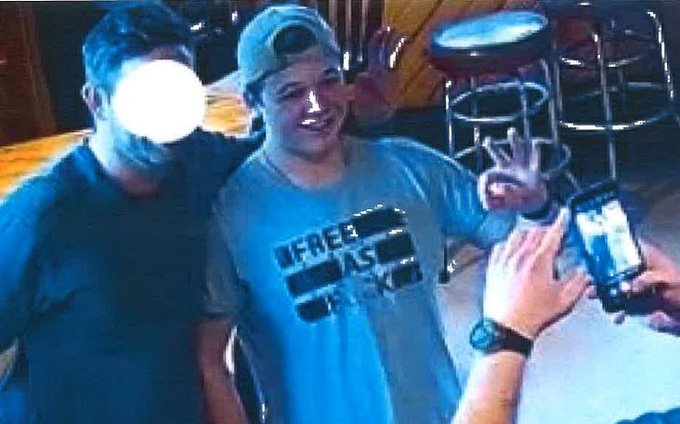 Let's hope Rittenhouse is found soon so he can face trial over these horrific allegations. Please share.