Personally, I find baking rather therapeutic. It's hard to tell whether it's the process that's more enjoyable, or digging into the end result.
Baking, however, also requires a certain amount of planning — and does take time. Some ingredients have to be pre-planned — and softened butter is a prime example.
But, with our busy day-today lives, who has time to remember all these details. Thankfully, according to actress Jennifer Garner at least, there is last second solution to taking 'un-softened' butter to softened, real quick!
Butter is a staple ingredient in both cooking and baking. But when a recipe calls for softened butter and you didn't have time to plan ahead, what do you do?
People have long come across this conundrum and resorted to a variety of unconventional ways to solve the issue.
They may place the butter next to a hot oven, microwave it, or even stick it under their pits — but let's face it, none of these are ideal.
Star of '13 Going on 30′ Jennifer Garner however has a simple, brilliant tactic to share with the world.
She recently woke up very early one morning to bake chocolate bread for her three kids and filmed the process for her very relatable Instagram #PretendCookingShow.
"This time of year it is extra cozy to send kids to school with something warm in their bellies," she explained on Instagram. "My kids feel extra cozy about @realbakingwithrose's chocolate bread. This recipe isn't crazy sweet and, with a good swish of peanut butter, is just the thing for my early rising middle schooler."

But when came time for softened butter to go into the recipe, Jennifer was stuck. She hadn't laid it out on the counter the night before.
The solution? Simple as ever: simply grate the butter and it will give it a 'softened like consistency'.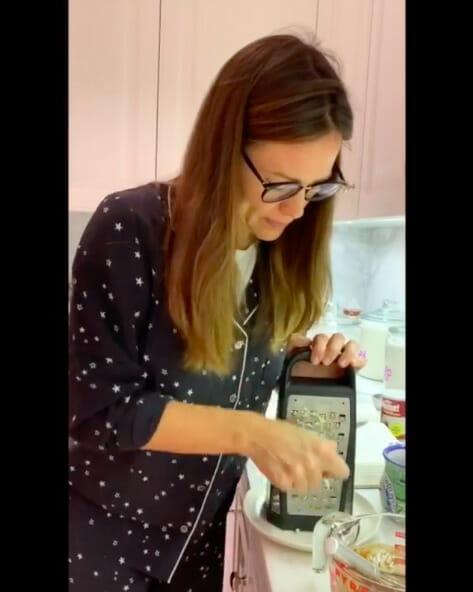 Watch Jennifer in action below.
What a brilliant trick — and not to mention hilarious way to present it! Share with your family and friends if Jennifer's quick-thinking tactic inspired you, too!