Nestled in the heart of Red River Gorge, the newly constructed Creeksong Cabin was finished in September of 2019 and is appropriately equipped with all of the cozy amenities one could think of.
The small but spacious cabin is a perfect balance of rustic and modern aesthetics. The one-bedroom, one-bathroom space can accommodate sleeping arrangements for four people.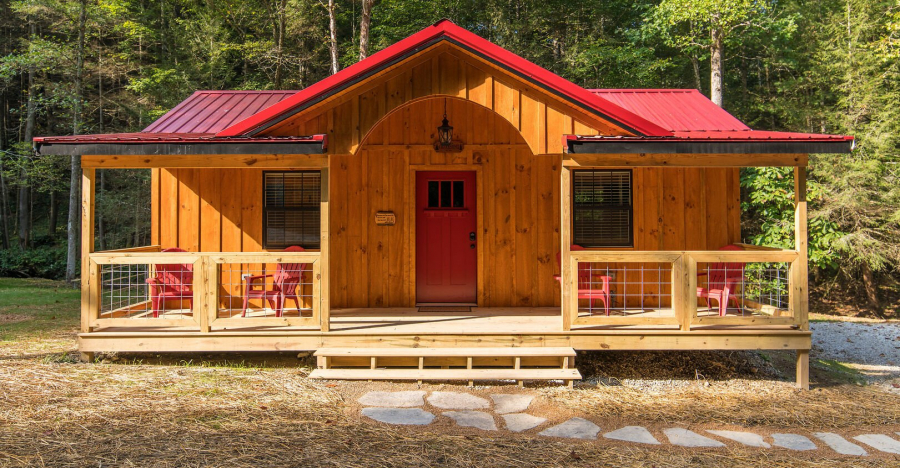 In the cabin, one can find a fully equipped kitchen with a coffee maker, microwave, free WiFi, a charcoal grill, dishwasher, and Smart TV. The cabin has covered porches as well, which is perfect for some outdoor time—outdoor furniture, a fire pit, and more outside amenities complete the picture.
The bedroom contains a single queen-sized bed as well as an air mattress for more guests. Guests can find fresh linens, towels, and special essential starter pack: 2 rolls of toilet paper, 2 rolls of paper towels, 3 shampoos, 3 conditioners, 3 bars of soap, 3 dishwasher pods, 3 trash bags, and 1 sponge.
The location of the cabin is ideal for staying in or getting out to adventure. The Red River Gorge is a prime area, close to various hiking, horseback riding, rock climbing, kayaking, canoeing, zip lining, sightseeing, restaurants, and much more. The spot is also within walking distance of Soul Sister, Cozy Creek, Hillside Haven, Big Boulder, Dreamscape, and Angel's View.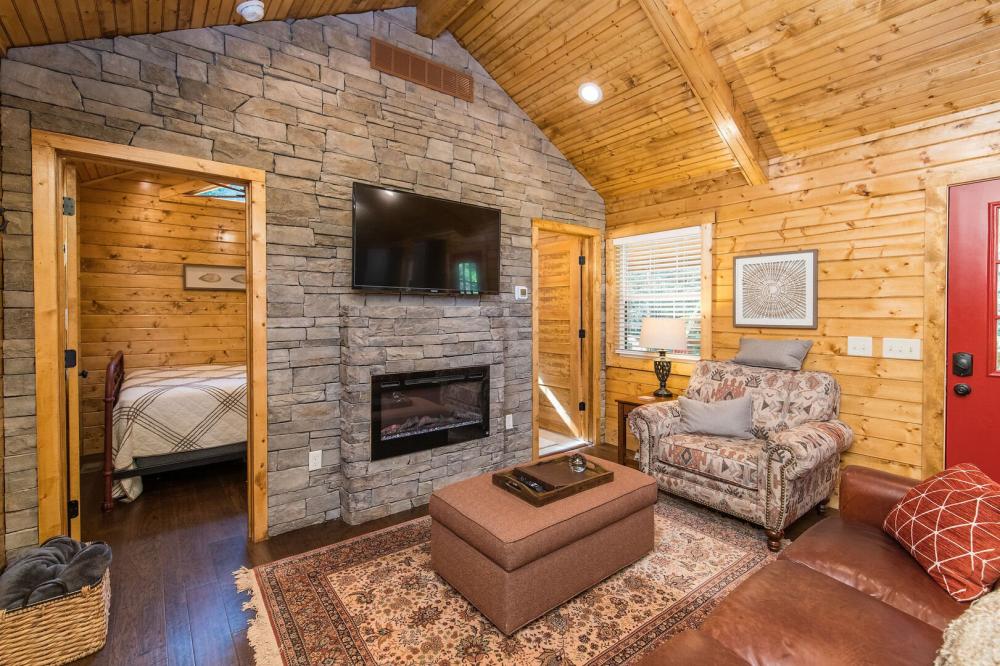 Even if you choose to spend some time enjoying the property itself, you can find yourself a seat at one of the cabin's covered porches and view the land. Listen to the bubble of the nearby creek and the sounds of nearby wildlife next to the outdoor firepit. Inside, enjoy the vaulted ceilings and fast WiFi next to the faux fireplace. 
The cabin sits on a 150-plus acre slice of Red River Gorge, Kentucky, just minutes from Natural Bridge State Park. That means a variety of marked hiking trails and climbing routes and countless natural features on the property itself, including creeks, caves, waterfalls, cliffs, and more. The Gorge area is an intricate canyon system, blending sandstone cliffs, rock shelters, natural bridges, and lush woodland for a perfect picture around the Creeksong Cabin.
Take a peek inside:
I REALLY love this design! Absolutely gorgeous I need this!