Every animal deserves a loving home, regardless of how old it is or how it looks.
That's why I was so touched by what a boy named Easton did recently.
He and his mom visited an animal shelter and his mom let him bring home any animal he wanted.
For Easton, it wasn't about how his new best friend would look. It went much deeper than that.
One day, Easton received a really nice gift from his mom. She took him to a local animal shelter, where she let him choose any animal he wanted to take home with him.
There were puppies and kittens — and with so many cute animals, most people would have had a hard time choosing. But not Easton.
When he arrived at the animal shelter, Easton immediately felt a strong connection with a certain animal. But it wasn't a cute little puppy or a kitten. It was a 10-year-old orange cat named Tiny.
Tiny's sister Trinity was also at the shelter, but the two siblings didn't have strong bond, so the animal shelter said it would be okay if they were adopted separately.
And when Easton and his mom got Tiny in the car, they quickly realized that the 10-year-old cat had found his home.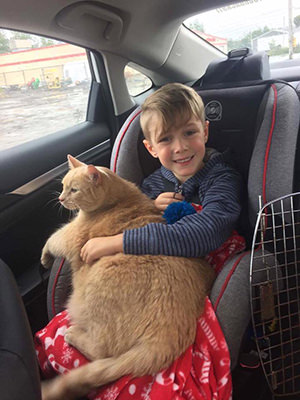 A lucky cat
When Easton and his mom let Tiny out of his cage, he wasn't like most other cats. He didn't take a while to get used to new surroundings. Tiny went up and sat on Easton's lap and cuddled with his new best friend. Easton's mom, with the help of the animal shelter, posted the picture of the two on Facebook, where it has already received more than 40,000 likes.
Tiny is really lucky to have such a nice new family. He isn't the smallest cat or the youngest kitten. And for that reason, I'm so happy that Easton chose him to be his new best friend.
The most important thing isn't what's on the outside, but what's on the inside. Easton really proved that when he went to the animal shelter that day.
Do you also think that Easton and Tiny are a perfect for each other? Please share this heartwarming story with your friends!
Published by Animal Bible. Please like.