Animals never fail to surprise — nor amuse us, as one dog certainly proves here.
This dog from Italy and his sheep friends had me cracked up. Meant to 'guard' the sheep, he does something that left me absolutely dumbfounded.
It's hard to understand precisely what's happening strictly from the still image below, but when you start to see the gang move forward, you begin to understand…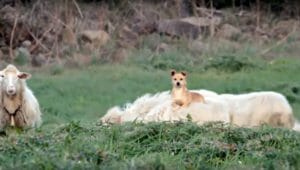 Rather than watch over the sheep, the dog has decided, well… to ride one.
He sits comfortably on its back — and the sheep doesn't seem to mind much at all. As the herd moves forward, so does the dog, comfortably and rather innocently sitting on the sheep's back.
The owners naturally couldn't keep from laughing and immediately reached for their cameras to film the hilarious sight.
Who said you had to walk, when you can ride a sheep?
Take a look at this clever and hilarious little dog in the video below.
Have you ever seen anything like this? Share with all your family and friends if this clever doggo brought a smile to your face, too!