Rescue a dog, and they'll rescue you right back. That was the lesson from Sadie, the heroic dog who saved her owner's life after a stroke, as we told you about last week.
Now, there's a heartwarming update to the story as Sadie has finally reunited with her beloved owner after he was hospitalized.
Sadie, a 6-year-old German shepherd, was left at the Ramapo-Bergen Animal Refuge a few months ago when her owner moved, but got a second chance when a man named Brian Myers decided to adopt her.
"He valued her intelligence, hesitancy to trust and fierce loyalty once she did form that trust," the shelter wrote on Facebook. "Brian gave Sadie a second chance at life, adopting Sadie and welcoming her home."
It soon proved to be the best decision he ever made: not long after bringing Sadie home, Brian had a stroke… and his loyal rescue dog was the only one home to save the day.
After Brian collapsed, Sadie instinctively came to his rescue
"She came to my side and she lied down next to me, licking my face to keep me alert," 59-year-old Brian told NBC New York.
She also saved his life by dragging him towards his cell phone, allowing him to call for help. "She just started to pull me backwards, so with that and the little bit of strength that I had, I was able to get myself out of the corner and … get the help I needed," Brian said.
He was taken to the hospital, and thanks to Sadie's intervention, he made a full recovery. But his hospital stay kept him away from his beloved dog, right when he needed her most. Sadie stayed with family, although the two FaceTimed every night, according to the shelter.
"I miss her terribly and can't wait to see her and love her even more than I already have," Brian said. "I promise to give her the best life she can have and will never forget her loyalty and heroism on a very scary night."
But now, they're separated no more: in a heartwarming update to the story, the two have finally reunited outside the hospital.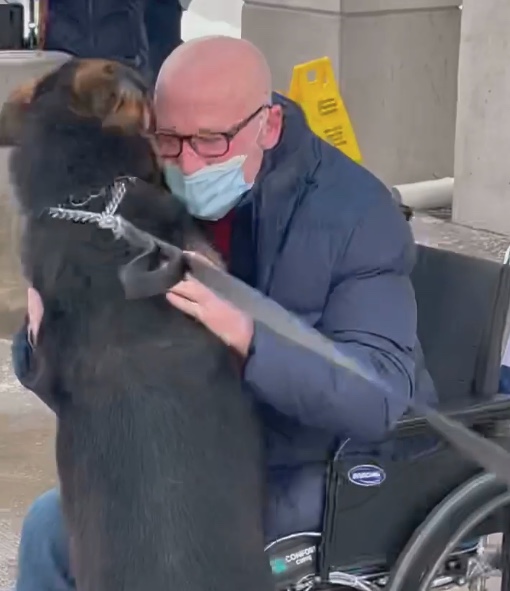 As onlookers cheer, Brian is wheeled out of the hospital and Sadie happily goes up to greet him, licking his face.
And Brian is visibly emotional as he greets the dog who saved his life.
"Brian left the rehab facility today and is feeling great – and is looking forward to spending plenty of time with his loyal girl as he continues to rest at home," the Ramapo-Bergen Animal Refuge reported.
Brian is now home with Sadie, and will go on disability. To help support him during this difficult time, the RBARI is collecting donations to help him care for Sadie.
Brian also hopes that people moved by Sadie's heroism will be inspired to adopt a rescue dog of their own.
"There are many other dogs there waiting to be somebody's hero," he told NBC New York.
We're so happy to see these two together again. Thank you, Sadie, for being such a great dog and saving your owner's life and being an inspiration for rescue dogs everywhere.
Share this amazing story!