It takes a special kind of person to go out of their way to help an animal in need, especially when they're a complete stranger.
We're always inspired by stories of people putting themselves on the line to save an animal's life, braving harsh weather conditions.
Like one man, who recently jumped into an icy lake to save a dog after finding himself in the right place at the right time.
Darcy Pell, a 31-year-old from Featherstone, England, was out for a jog through the local Pontefract Park when he spotted a dog out on the ice of a frozen lake.
Suddenly, the dog fell through the ice, and was clearly struggling to get out. Realizing the dog needed help, Darcy decided to jump in and save the day.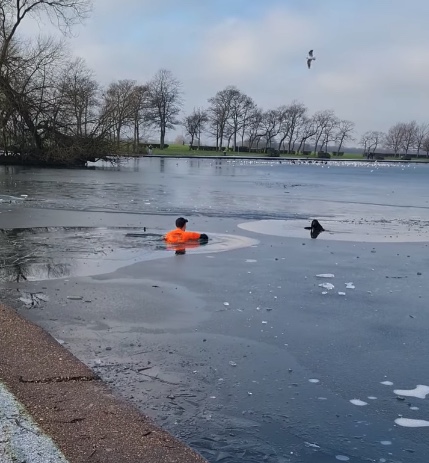 "[I] just sort of decided that it wasn't going to get out, so I ran back toward the lake," he told People.
"I'm a strong swimmer, so it didn't really phase me. I just got in and used my body to break the ice because it was quite thick that day."
Braving the cold, Darcy swam out to the dog and guided it back towards land.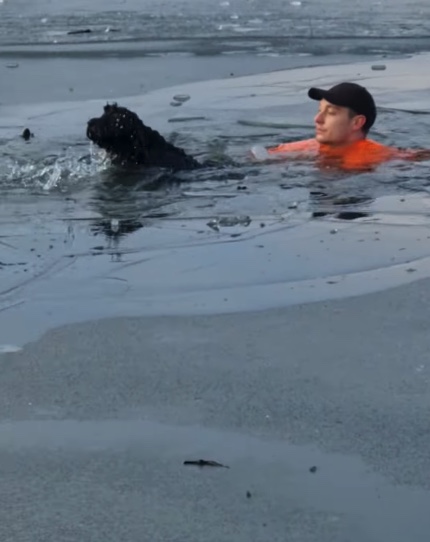 The rescue was witnessed by several onlookers, who saw the dog fall in and were relieved to see Darcy go in to help.
A woman named Paula Town captured the inspiring rescue on video, and posted it on Facebook. "What a hero," she wrote.
"When we got to the lake, I could see a dog in the water, it was trying to get onto the ice but kept falling back in," she recalled to the Yorkshire Evening Post. "I felt panic-stricken and scoured the side of the lake for a life buoy but couldn't find one.
Luckily that guy came along, he lowered himself into the water and the rest is on the video."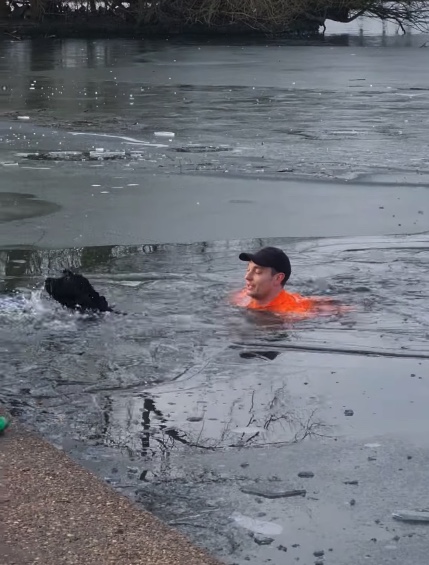 The dog made it back to land safe and sound and was reunited with its family. His owners put him back in a collar — it's possible he slipped out and wandered onto the ice by mistake.
While he saved the day, Darcy is modest about the whole thing, saying he isn't a hero. But he was uniquely qualified to save the day, thanks to his experience swimming in cold waters.
"I don't generally jump into ice water for fun, but I do triathlons and live in Yorkshire, so it's never really very warm," he told People. "I also know how my body is going to react to cold water and I know what your body is going through."
People everywhere are now praising Darcy as a hero — everyone except the dog, who didn't quite know how to show its appreciation:
"I just sort of got out and the dog ran off and then came back and shook its water on me," Darcy joked.
What an amazing rescue. Thank you to Darcy for saving this dog's life! Share this incredible story!