There are very few people who support the act of taking photos with animals you've just killed.
American trophy hunter Tess Thompson Talley discovered this last week, when the internet exploded after seeing a picture of her smiling in front of a deceased black giraffe in South Africa.
Talley can be seen squatting before the creature, a hunting rifle cradled against her shoulder and the giraffe's head almost nuzzled into her side.
To no great surprise, the image quickly went viral for all the wrong reasons. Africa Digest posted the picture to Twitter alongside a fairly inflammatory caption, whilst animal rights activists around the world have been vocal in their condemnation.
As per reports, Talley's now responded to the widespread criticism, telling the Daily Mail that she doesn't regret her actions.
Celebrities such as Ricky Gervais and Debra Messing led the charge, as thousands of people the world over vented their frustrations after seeing Tess Thompson Talley's image, one captured after she had shot dead a black giraffe.
However, rather than balk in the face of staunch opposition, Talley has responded by defending her decision to show off her kill.
She told the Daily Mail: "It is something I believe in. This is more than a hobby for me, it's a passion.
"If you post something you believe in, whether it's hunting, religion or politics, there is someone there to hate on you.
"And I'm a woman so they are going to make it worse. Men don't get the grief."
White american savage who is partly a neanderthal comes to Africa and shoot down a very rare black giraffe coutrsey of South Africa stupidity. Her name is Tess Thompson Talley. Please share pic.twitter.com/hSK93DOOaz

— AfricaDigest (@africlandpost) June 16, 2018
Though it continues to face calls for its abolition, trophy hunting in South Africa remains a lucrative source of commerce for the country as a major draw for tourism.
Talley herself claims that a lot of people benefited from her most recent hunt.
"Other people benefited," she said. "The safari company, the village, the locals, the economy, they all benefited.
"This giraffe had killed three younger ones that would have bred. As I was hunting him I was walking over their bones.
"The herd is flourishing now that he is gone.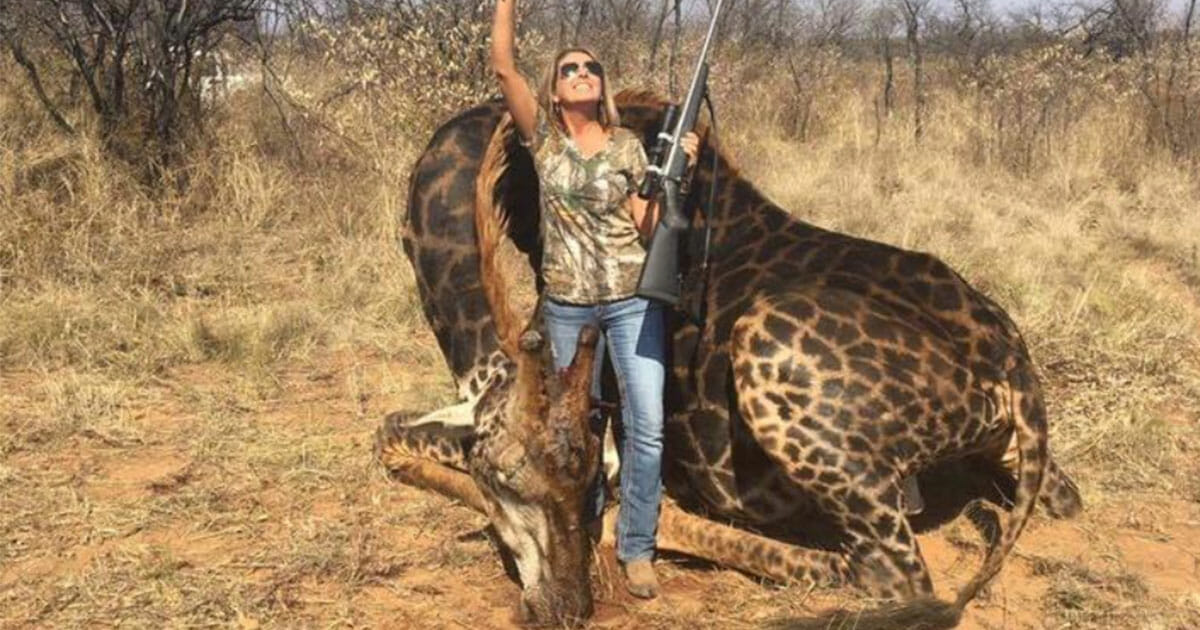 "He was 18. He was going out. If you have a dog and it gets old or ill, you take it and you have it put down. This was the same."
What's more, Talley, 37, says she has no plans to stop taking mementos from her hunts, and endorsed the possibility of returning to South Africa in the future.
"That's what all hunters do," she said. "We all pose with our trophies.
"It's like going on vacation to a monument and posing in front of it. That way, you have the memory."
#FuckTrophyHunting pic.twitter.com/5MVrvwI3bL

— Ricky Gervais (@rickygervais) July 2, 2018
Talley may be convinced that her actions are justified, but we're not so sure. Who could happily go out with the intention of shooting a magnificent creature in the head merely for fun? 
If you, like us, stand against hunting, and believe there should be laws in place to protect the innocent creatures of the world, SHARE this story to help us spread the word!