Adopt, don't shop.
You've probably seen that phrase countless times on bumper stickers, posters, t-shirts, coffee mugs, etc. The phrase urges people looking to add a new pet to their family to adopt from a shelter rather than make a purchase from a pet store or online.
Not only can adopting a dog literally save an animal's life, but it's one of the ways people can fight puppy mills.
Another way to fight the horrible practice is by passing laws, and the state of Massachusetts might be the next one to make the sale of animals from puppy mills illegal.
According to the Humane Society, "a puppy mill is an inhumane high-volume dog breeding facility that churns out puppies for profit, ignoring the needs of the pups and their mothers."
The dogs that come from these places have spent their lives in close quarters with little exercise and limited access to the basic necessities. They are often unwell, sometimes resulting in premature illness or death, and typically do not know how to socialize.
Several cities around the country have already issued or explored some type of ban on the sale of commercially bred puppies, and a few states, like Maryland, have passed laws on commercial breeding practices.
According to the MetroWest Daily News, if the proposed legislation put forth by Massachusetts state Sen. Patrick O'Connor and state Rep. Natalie Higgins passes then the sale of puppies from puppy mills will be banned in the New England state.
"I looked into the condition in which some of these cats and dogs are being treated and where they were coming from, and thought it was a no-brainer that Massachusetts should continue to build on the progress we've made on animal rights by outright banning the (retail) sales of cats and dogs in pet shops," O'Connor told the Daily News.
The legislation would require that pet stores only sell animals they acquired from shelters or animal rescues.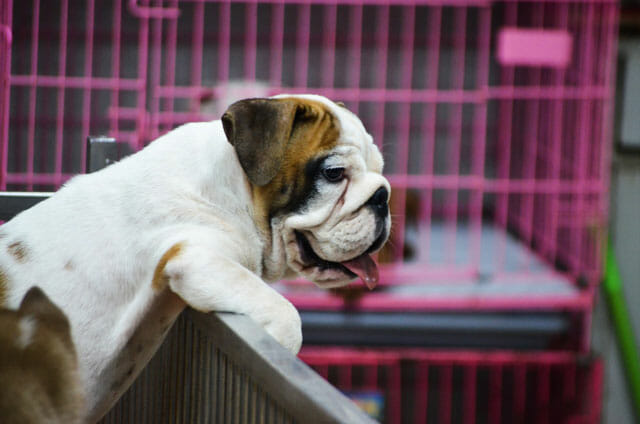 If Massachusetts passed the bill, the state would join California, Maryland, and Ohio as one of four that have placed strict laws on puppy mills.
If you are against puppy mills and want to see more states pass similar laws making it harder for commercial breeders to continue torturing animals, share this article with your friends.
You can also visit The Humane Society to find other ways you can help stop puppy mills.