Any fans of the Wild West hit TV show "Bonanza" will remember rancher (and bodyguard) Hoss Cartwright, played by Dan Blocker.
Hoss was the heart and soul of the show. The Texas-born father of four starred in the show for 13 seasons before his sudden death in 1972.
He was just 43 years old when he passed from a pulmonary embolism following gall bladder surgery. In an unusual move his death was even referenced in the show's storyline but the famous show only lasted one more season without Hoss.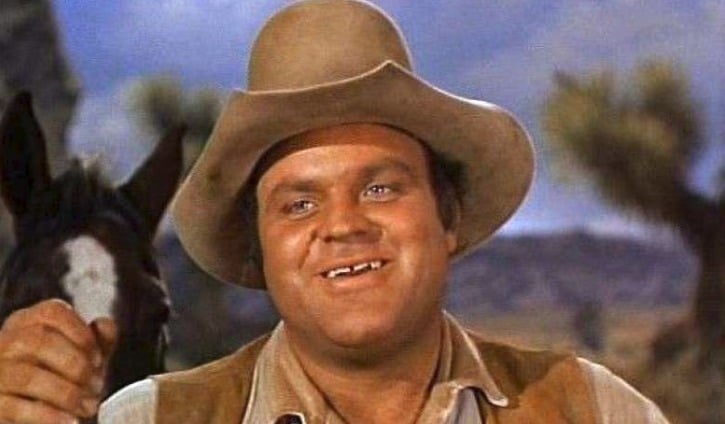 Dan enlisted in the military in 1951 where he served during the Korean war. He received a purple heart for his injuries in combat.
Following his time in the military, Dan began his acting career in a "Three Stooges" short. His big break came in 1959 when he landed the "Bonanza" role.
Blocker not only became a TV immortal but his spirit lives on in his children, particularly son Dirk, who bears an uncanny resemblance to his father.
Fans can see Dirk on hit comedy TV show "Brooklyn Nine-Nine" playing lazy, aging detective Detective Michael Hitchcock, alongside his equally unenergetic sidekick Detective Norm Scully, played by Joel McKinnon Miller.
While providing comic relief fans can't get enough of how much he looks like his father and even sounds like him.
Dirk, 63, has also appeared in other well-known television shows like "Murder She Wrote", "Texas Ranger" and "Beverly Hills 90210" and even appeared in "Bonanza: The Return" as a reporter named Fenster.
He said his love of acting came from hanging out with his famous dad on set.
"I suppose I was bitten by the acting bug at an early age while going to work with my dad," Dirk Blocker said in an interview with Jeff Pearlman.
"His schedule was such that this was one of the only ways to spend a lot of time with him. As a result, I'd watch as he and his cohorts would be chatting amiably about current events one minute, and then watch them transform themselves into someone else when called to the set—a kind of learning through osmosis. That, and that he enjoyed his work so much likely carried over for me."
His brother David chose a career behind the camera as a film producer and won an Emmy for producing "Don King: Only in America."
While David looks more like his mother Dolphia Parker, it's hard not to do a double take when looking at Dirk and Dan, what do you think?
Feel free to share this story with all the fans of this famous family and their work you know to find out if they agree.