Elton John has certainly been through a lot in his life. He's pretty much lived on the stage, performing for decades all around the world, as well as – together with Bernie Taupin – writing some of the most wonderful tunes ever created.
However, the 74-year old is coming to the end of his touring days. He's embarked on his final world tour, though the pandemic has put a number of concerts on hold.
Now, Elton has given his fans another sad message. Due to a health issue, he's postponing a whole bunch of tour dates in Europe until 2023. At the same time, he delivered a very emotional message to his many fans around the world.
Many artists and bands have achieved musical stardom over the years. A select few have been able to become world icons in their chosen genre.
Elton John
Yet there are very few, if any, that have reached the levels of Elton John.
The singer from England took the world by storm as he grew into a world class entertainer in the late 1960s. Since then, he hasn't slowed down one bit.
His extraordinary life story was made into a film, Rocketman, and many of his wonderful songs will live on forever. Elton's music encompasses a unique blend of several genres, and his pop and rock styles turned him to an icon in almost all parts of the world.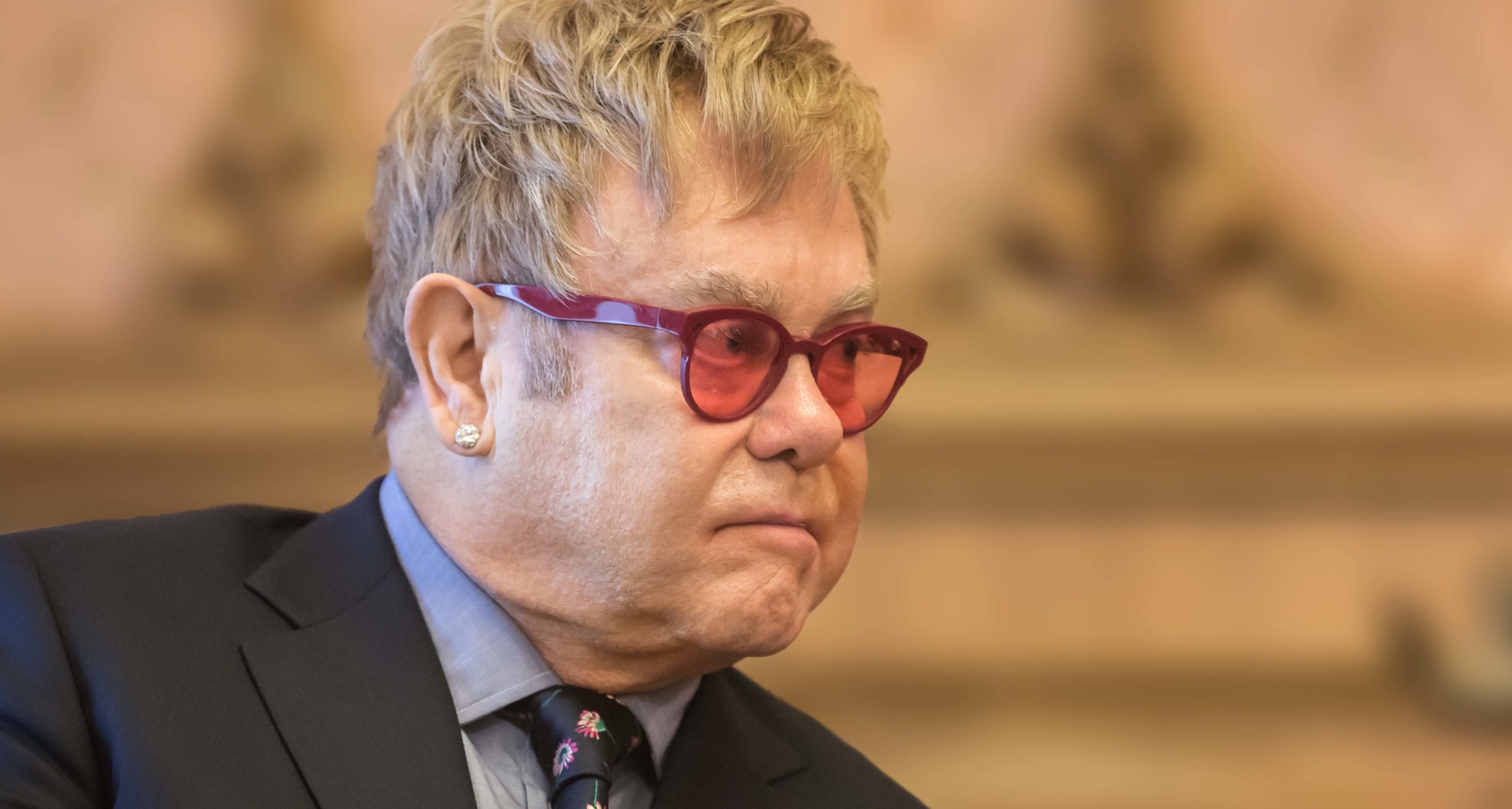 He always had verve and extra spice in his live performances, showing off several crazy looks over the years.
Early life
Elton John was born Reginald Kenneth Dwight on March 25, 1947 in Pinner, England. At an early age, Elton was enchanted by music, and he taught himself to play the piano at age four. When his talent was recognized, he went on to earn a scholarship at the Royal Academy of Music in London.
At the same time as he loved music, relationships at home made things a little bit more complicated. He and his father clashed several times about what Elton was going to do in the future, as the talented boy himself wanted to move into pop and rock and roll.
"As a child, I got approval and love when I sang at family gatherings or weddings, and I felt safe and happy. Then I came off stage and, again, I had to deal with what was going on in my life," Elton John told CBC.
Elton explained that his childhood was very conservative. In a piece for The Guardian, he explained how his complicated relationship with his father actually made him seek way new ways to listen to music. In the end, it probably helped him move forward towards stardom.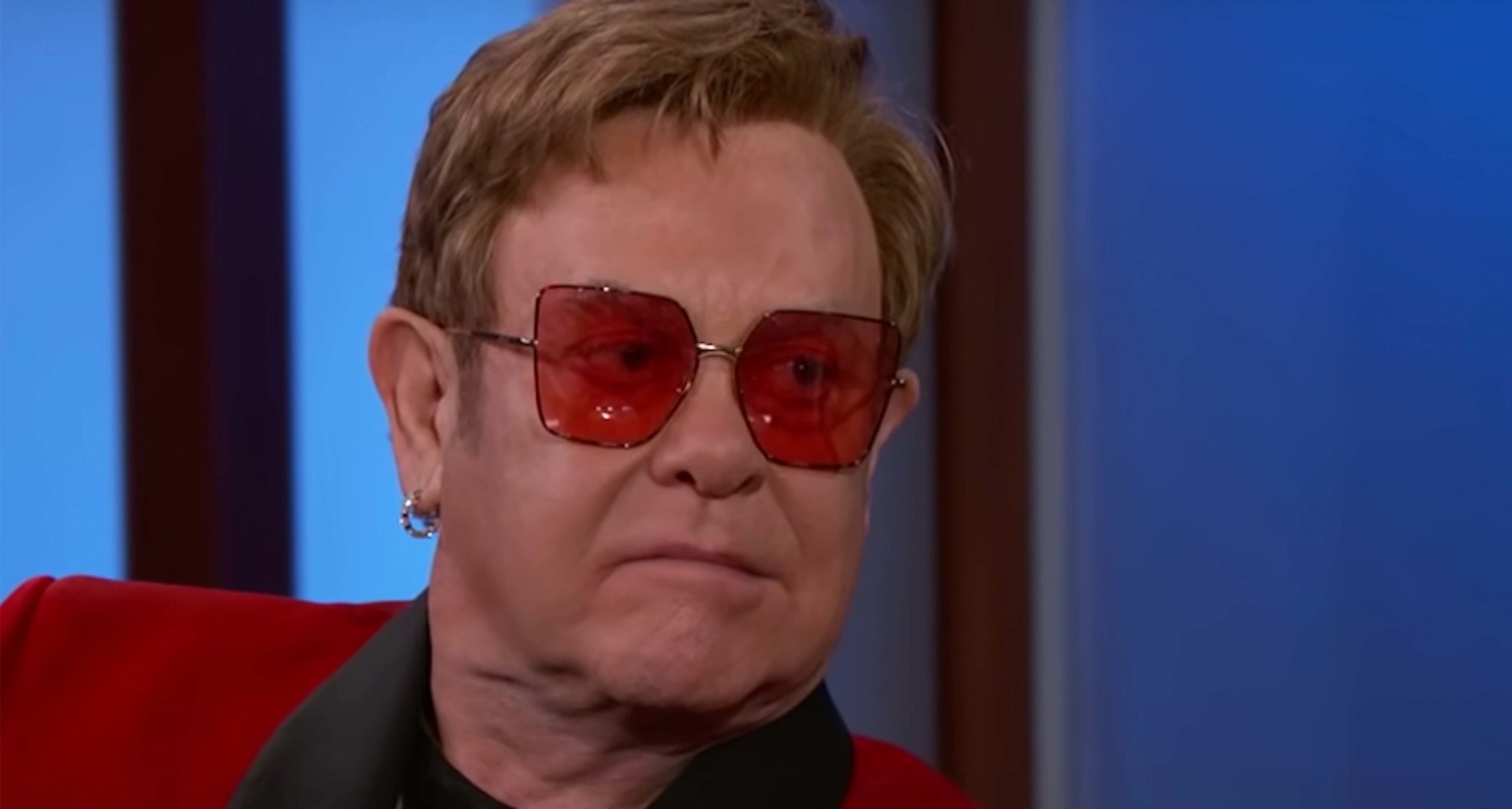 "My dad was in the RAF so he was away from home a lot, and when he got back, he tried to impose new rules about everything: how I ate, how I dressed. That would set Mum off. I got the feeling they were staying together because of me, which just made things more miserable," John wrote.
Start of music career
"The best way to escape it was to shut myself in my bedroom with my record collection and my comics, and drift off into an imaginary world, fantasizing that I was Little Richard or Ray Charles or Jerry Lee Lewis. I made my peace with it all years ago.
"They divorced when I was 13, both remarried, which I was happy about, although my relationship with both of them was always tricky. I was closer to Mum than Dad, but there were long periods when we didn't speak. And my childhood is one thing I'm still sensitive about."
At 17, Elton John dropped out of school to pursue his dream of becoming a musician. He performed with a group named Bluesology.
Then, in 1967, his life would change forever. John saw an ad in a local newspaper for Liberty Records. Upon a visit, it turned out that another person had also been invited to the record company. That person was Bernie Taupin – it wasn't long before the two started working together.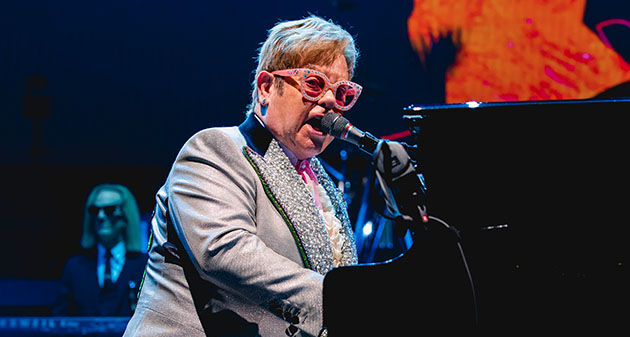 Elton said he only could play music, but not write lyrics. Taupin – who was 16 at the time – could only write lyrics. As you can probably guess, they ended up being the perfect match!
In the beginning, however, Bernie admitted he was in awe of Elton.
Elton John – Bernie Taupin
"I was the quintessential country bumpkin and he was sophisticated," he told Daily Mail. "He lived in London and played in clubs! So he looked out for me. He was like a big brother."
Still to this day, Bernie and Elton are great friends.
On his self-tiled 1970s album, Elton John got his big major hit with Your Song. In the years that followed, he released smash hits such as Crocodile Rock, Island Girl, Bennie and the Jets, as well as the celebrated albums Goodbye Yellow Brick Road in 1973 and Rock fo the Westies in 1975.
Not only did Elton John became famous for his great mix of rock and roll and pop music, but his live performances became more and more eccentric. Elton himself was celebrated for the way he would dress up in different costumes with his iconic huge glasses.
The costumes and theater-like performances became a huge part of who Elton John was on stage. In the end, it also helped him grow in a bigger way than one might expect.
"Suddenly, I could dress how I wanted," he said. "I could do what I wanted for the first time in my life."
Elton John's biggest hits
During the '70s, '80s and '90s, Elton continued his journey towards legendary status. Alongside Bernie Taupin, he released more major hits, including songs such as I'm Still Standing, Nikita, Don't Let The Sun Go Down On Me, Nikita, I Guess That's Why They Call It The Blues and Candle In The Wind.
When Princess Diana passed away, Bernie also rewrote the lyrics for her funeral, during which Elton John performed inside the church.
Elton and Taupin then worked together on the 1994 film soundtrack The Lion King, through which Elton won an Academy Award with Can You Feel the Love Tonight. He won another Oscar in 2020 for Best Achievement in Music Written for Motion Pictures (Original Song), following the film Rocketman about his life.
Still to this day, Elton has continued creating music and bringing joy to people all around the world. His earlier hits have transformed into legendary songs, but now, he is approaching the end of his touring days.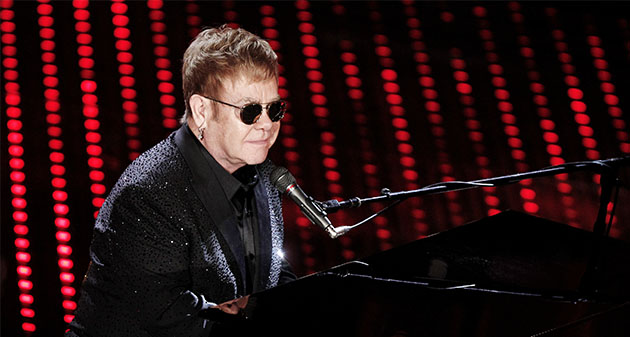 In January of 2018, Elton announced his final tour, Farewell Yellow Brick Road. The plan was for him tour the world for three years, before retiring from performing for good.
New health update
In February of 2020, John performed in the city of Auckland, New Zealand. However, the show made worldwide news when Elton left the stage in the middle of a song.
In the middle of his set, Elton appeared to lose his voice. In a video from the show, he was visibly upset. He covered his face with his hands as he broke down in tears and leant towards his piano – the music legend was forced to cancel the show.
Elton was helped off stage and the audience gave him an ovation. Earlier during the show, the celebrated singer revealed that he'd been diagnosed with walking pneumonia.
It's a type of lung infection, often caused by bacteria or viruses, according to BBC. It's less severe than other types of pneumonia, and most people that are diagnosed with it don't require medical attention. Symptoms can, according to the BBC, be compared to those of a bad cold, including a sore throat, headache and chest pain.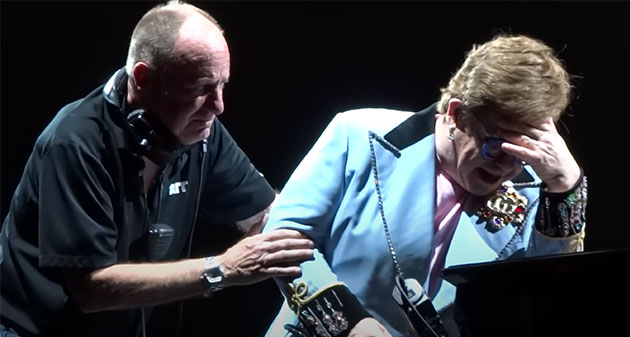 COVID-19 then had to put large parts of the tour on hold, though Elton is set to continue in 2022. The iconic singer has spent plenty of time at home during the pandemic.
Suffered a hip injury
At 74, he's used his time wisely, working out and staying healthy.
"During lockdown I've really gotten fit. I've walked in the pool, I've played tennis," he told People.
"I just wanted to come out the other side not overweight and feeling that when I go back on tour I'm going to be the fittest I've ever been."
After the summer of 2021, Elton John was set to hit the road once again for his Farewell Yellow Brick Road tour. However, once again, his health has stopped him doing what he loves.
Through his social media channels, Elton announced that he's been forced to push back the European tour dates of his tour to 2023. He recently suffered a hip injury, and now requires an operation.
"It is with great sadness and a heavy heart that I am forced to rescheduled the 2021 dates of my Farewell Yellow Brick Road tour in Europe and U.K. to 2023," Elton John wrote.
"At the end of my summer break I fell awkwardly on a hard surface and have been in considerable pain and discomfort in my hip ever since. Despite intensive physio and specialist treatment, the pain has continued to get worse and is leading to increasing difficulties moving. I have been advised to have an operation as soon as possible to get me back to full fitness and make sure there are no long-term complications. I will be undertaking a program of intensive physiotherapy that will ensure a full recovery and a return to full mobility without pain."
"It breaks my heart"
Elton made it clear that he still is going to perform a number of songs at the Global Citizen festival on September 25. He added that he doesn't "want to let a charity down". That performance will be much shorter than the lengthy tour concerts.
"I know how patient my incredible fans have been since Covid halted touring last year, and it breaks my heart to keep you waiting any longer, I completely feel your frustrations after the year we've had," John added in the announcement.
"I promise you this — the shows will return to the road next year and I will make sure they are more than worth the wait."
We hope everything will be fine with Elton, and wish him all the best with his surgery. The most important thing will always be your heath, and we look forward to seeing him on stage soon again.
Please, share this article with friends and family on Facebook to honor the one and only, Elton John!