Embracing the lines that frame her beaming smile, Faith Hill, the darling of country music, says her wrinkles tell the story of her happy life.
"I'm okay with having lines," The singer said. "…I want people to know I've smiled a lot!"
Known as the face of country music, Hill, now 55, reveals that decades ago, she fell prey to the trends of the 80s with caked-on makeup and a perm, even though she has naturally curly hair.
READ MORE:
Today, she's as stunning as when she was topping the charts with hits like Wild One (1994), It Matters to Me (1995), This Kiss (1998) and It's Your Love (2000), a song she worked on with country crooner, Tim McGraw, whom she married in 1996.
In 2021, the acting duo played alongside legendary actor Sam Elliot in the miniseries 1883, a prequel to the hit TV series Yellowstone, as on-screen couple Margaret Dutton and James Dillard Dutton.
Off-screen at home, McGraw is outnumbered by women. The adorable couple—country music superstars—are loving parents to three daughters, Gracie (25), Maggie (24) and Audrey (21).
Just shy of her 50th birthday, Hill explained in an interview with New Beauty, "I honestly don't pay attention to it. If I did, my girls would notice and I don't want that. It's not a message I want them to have. The secret is being confident—with your age, with yourself. Life is so precious. We only have one; what's the point of stressing about all of that?"
She added, "Each decade has been different. Each day is a blessing. That's how I want to look at it."
The award-winning beauty–she's earned 15 Academy of Country Music Awards, five Grammy Awards and six American Music Awards–has the undivided attention of her handsome and doting cowboy husband, who Hill jokes has beautiful skin.
"He likes moisturizers because I'm so into moisturizer. Every time I try something new, I say, 'Here, let me test it on you first.' He has beautiful skin."
McGraw, also 55, loves the natural, barefaced beauty of his wife.
"He likes when I have no makeup on and crazy-curly hair. Before I put it up in a ponytail, he always tells me to wear it down because it's his favorite," Hill said.
Brimming with pride over Hill–he's often praising her and her talents–McGraw posted a video on Valentine's Day of It's Your Love, the first song and music video he did with his wife, in what he calls "beauty and the beast videos."
Reflecting back on that sweet moment, McGraw offers heart-melting commentary on a split-screen video, "Wow! How beautiful is my wife in this video, my gosh." He says, swooning over the stunning Hill. "I'm always intimidated making videos with Faith, just because she just is so beautiful, I mean…She just–the camera loves her."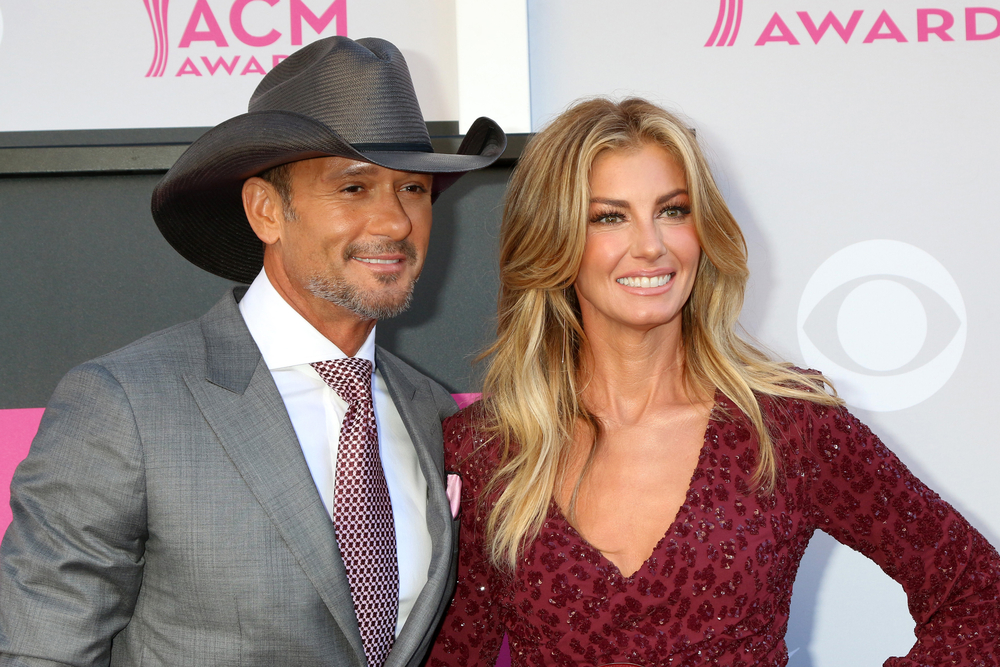 Perched on the peak of popularity in music, Hill is a constant target to trolls and their unfiltered opinions.
Celebrating and chronicling their 25 years of marriage–both hardships and happiness–Hill and McGraw graced the cover of People in 2021.
Hill's curly blonde hair flowing to her shoulders, her smooth face radiating with natural colored-makeup, and McGraw in his character-defining cowboy hat, snuggling her from behind.
The photo triggered mixed reactions from fans, some in awe over her natural curly locks, and others judging Hill, suggesting she had plastic surgery.
One fan wrote "Celebrities obsession with plastic surgeries! Every age is a blessing…embrace it!!!" Another said, "I think what looks weird is the possible eyebrow lift. Something that left a surprised look on her face."
Hill has never addressed rumours that she had plastic surgery.
As the adage says, beauty is only skin deep, and Hill uses a beauty is on the inside approach to raising her girls.
"Social media can be so cruel, but we've always emphasized the importance of having a realistic take and a healthy view regarding beauty to our girls. They know it's not just on the outside. It's really important to us to teach them that beauty is on the inside," she said in the interview with New Beauty. "People can see your heart by the expressions on your face and by the way you carry yourself—they can see your happiness."
Openly expressing their love and happiness, Hill and McGraw are great examples to their daughters.
In September of 2021, McGraw posted a sweet montage of photos, honoring Hill on her birthday. The caption says, "Happy birthday!!!!! My best friend. My soulmate. The love of my life. I can't believe that I get to spend my days and nights with you for the rest of my life!
You are such a remarkable person and our 3 daughters could not have a better role model in their lives……We love you baby!"
What a cute couple! Tell us your thoughts on Faith Hill and her approach to beauty. Do you think she's dabbled in plastic surgery?