I enjoyed watching Baywatch during the Corona lockdowns, and it was then that it struck me just how many stars were born thanks to the series.
Take Donna D'Errico for example, who rose to fame as the gorgeous lifeguard Donna Marco. Today, she looks exactly the same as in 1995 – I was sure she was yet a 30-year-old until I looked her up her age…
It may be hard to believe – but Baywatch babe Donna D'Errico had a very Christian upbringing and attended a Catholic school when she was young.
Most of her teachers were nuns – few of them could probably have imagined that Donna one day would end up in Playboy magazine.
Donna was born in 1968 in Dothan, Alabama, but moved to Columbus, Georgia when she was six. Her father served in Vietnam and came from a big Italian family; her mom was a sweet Southern belle.
"As a little girl, I was always outside catching turtles, lizards, frogs, snakes, etc. I didn't really have any friends (I was very shy), there was no Internet, no video games, only four television channels, and no cell phones back then. So I entertained myself by spending my free time in the forest across the street from our house," Donna once said.
After graduating, Donna moved to Las Vegas and ran a limousine company. But before long, she turned to modeling, later becoming Playmate of the Month in Playboy magazine in 1995.
Baywatch success
One thing led to another and Donna soon entered Hollywood and was cast in Baywatch at its peak of popularity. As blonde bombshell Donna Marco, she first appeared in the series in 1996.
Her character was one of few who had a major role in both Baywatch and the spin-off Baywatch Nights.
Donna controlled her nerves and prepared well when auditioning for Baywatch Nights. She aced the audition and was hired immediately – though it didn't go quite as smoothly when producers wanted her to feature as a lifeguard on the regular Baywatch show.
There was one big problem; Donna couldn't swim.
Before the swim test, Donna lied and said that she could swim. She was taken to a pool and one of the "swimguys" from the production asked Donna to show off some basic stuff.
"You get to be part of the most-watched show in the world," Donna said.
"It was the opportunity of a lifetime. And here I am, knowing full well, that I cannot swim. It was all supposed to be basic stuff, nothing technical. But all I kept thinking was, 'What the heck am I supposed to do?' I still showed up at 5 a.m. I was told, 'Get in the pool, do a couple of laps to warm up.' Here I am holding onto the edge like a terrified child. And he's like, 'Donna, what are you doing?' Go do a couple of laps. It's freezing in there.' I couldn't let go. I was going to sink. And finally, he's like, 'Donna, get out of the pool. You can't swim.'"
A few weeks later, Donna got the chance to retake the test – but she failed. But after a few swimming lessons and a great deal of courage, she actually managed to pass the test, and then landed the role of Donna Marco in Baywatch. Even so, the actress still hasn't gotten over her fear of water: she's still terrified of the sea.
Meeting David Hasselhoff
Donna D'Errico starred in Baywatch from 1996 to 1998, becoming a popular character on the show – most known for its attractive lifeguards and slow-motion running.
When she first started, the 28-year-old model was nervous because all her acting colleagues were tremendous celebrities at the time.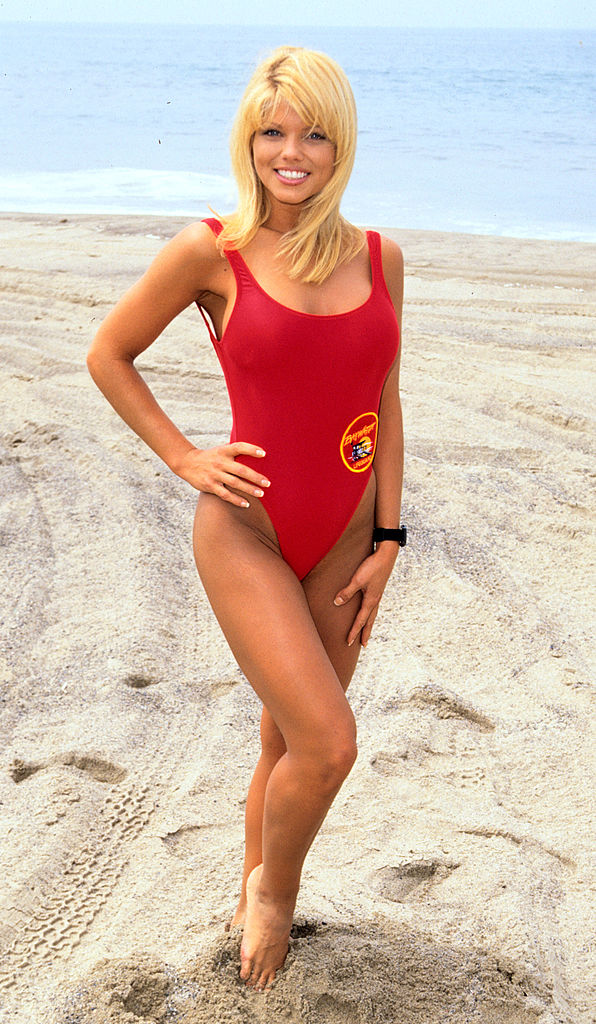 But after meeting David Hasselhoff, things changed.
"He was just a practical jokester," Donna said.
"He was very lighthearted and was eager to break the ice. That was his way of letting me know to loosen up. And you know, I had a good laugh afterward. It was a very fun, relaxing atmosphere. He was always making people laugh. And I look back on those memories very fondly because everyone was so welcoming."
After just two seasons, though, Donna was let go in what some people have dubbed the "Baywatch Bloodbath," an event where the producers wanted to retool the show and so fired half of the cast.
Donna claims she was typecast in Hollywood after starring in Baywatch, but her career continued, and she appeared in several independent movies in the '00s. During this period, many things were also going on in her private life.
Donna got romantically involved with rock musician Nikki Six, a member of Mötley Crüe – the world's most notorious rock band. D'Errico and Sixx were married from 1996 to 2007 and welcomed a daughter in 2001.
In 2017, Donna filed for divorce. The marriage had been shaky and was plagued by rumors of infidelity. In an interview with People, the former Baywatch star shared her feelings about breaking up with Nikki Six.
"Yeah, and I'm angry about the fact that I am now in my late 40s and I've had all this time pass without having a great guy in my life," she said.
Donna D'Errico swimsuit
Today, Donna is 54 but she looks half her age. In 2016, the former model vowed that she would never wear a bathing suit in front of cameras again.
"I'll tell you right now that's done!" she told Inside Edition and claimed her decision was made after she had found God again.
She added: "I was raised Catholic then I fell away from the church and I led a pretty sinful life. And then I went through my divorce and it was trying times and I turned to church."
But one year after her statement, Donna changed her mind. Suddenly, she posed in a swimsuit in front of Inside Edition's cameras, and since then, she says she feels "pretty damn good" about wearing a bikini.
Today, she often shares pictures of her body on her Instagram, and she loves to silence the trolls that claim she's "too old" to be wearing a two-piece.
As mentioned, many people also point out that Donna looks almost exactly the same as in 1995.
"I'm very flattered but I just feel like I'm more than that," she told Fox News in 2021.
"I understand it comes with the territory. And I understand that when you look at my social media, there's that kind of stuff. But I think it's very important for a lot of women, and for myself, to feel good about themselves. I like to look my best and I do that for myself."
Ironically, it almost looks like the sun has never touched her face – but all her running around the beach in her trademark red bathing suit actually took a toll on her face.
Plastic surgery
Some years ago, Donna decided to do something about it and visited Dr. Sarmela Sunder, who uses real blood to smooth out imperfections. And today, she has stopped "baking in the sun."
"I used to do the old baby oil baking in the sun thing long ago to get super tan," she explained.
"If I want a little glow, I'll use a self-tanner or a tinted moisturizer. I want to take care of my skin the best that I can and the number one thing you can do is stay out of the sun."
According to Donna, she doesn't have a particular skincare regimen to look young – but she likes to wash her face with a gentle cleanser and loves to try new skin care products.
In 2017, Donna underwent four cosmetic procedures. She had an arm lift and liposuction on her stomach, where the doctors removed two liters of fat. She also had a butt enhancement.
Climbing accident
Donna D'Errico had a lot of tough stuff to deal with in her life. In 2010, she became seriously ill with an MRSA infection and was hospitalized.
In 2012, Donna fulfilled a long-held dream when she traveled to Turkey to climb Mount Ararat. She wanted to search for the frozen remains of Noah's Ark, but she also came to search for a man named Donald MacKenzie, an American citizen who disappeared from Mount Ararat in September 2010 while searching for the Ark.
Sadly, Donna almost died on the mountain while searching for the Ark and Donald. While hiking, she suffered a 'major fall' while climbing an extremely dangerous part of the mountain.
The Baywatch actress was left with bruises and cuts around her mouth and cheek – she also suffered a leg injury. But despite all this, Donna refused to go home and decided to finish her trip's final two days.
Donna has suffered a lot but she has gotten through many problems without crashing or burning tragically, as too many A-List models do. Her sweetness still shines through!
She's always been such a beautiful woman and came out shining on the other side of her ordeals. She has my respect!