Most of us have had a nickname or two in our time, some not always welcome but most often they are used by family members as a term of endearment.
Using nicknames has been around since the 14th century and most of us associate it with less formal occasions.
But, even for the most formal of families, nicknames are very much the norm in their everyday lives – even within the Royal family.
Prince William recently made the headlines when it was revealed that he used to call the Queen 'Gary', when he was too young to pronounce 'Granny'.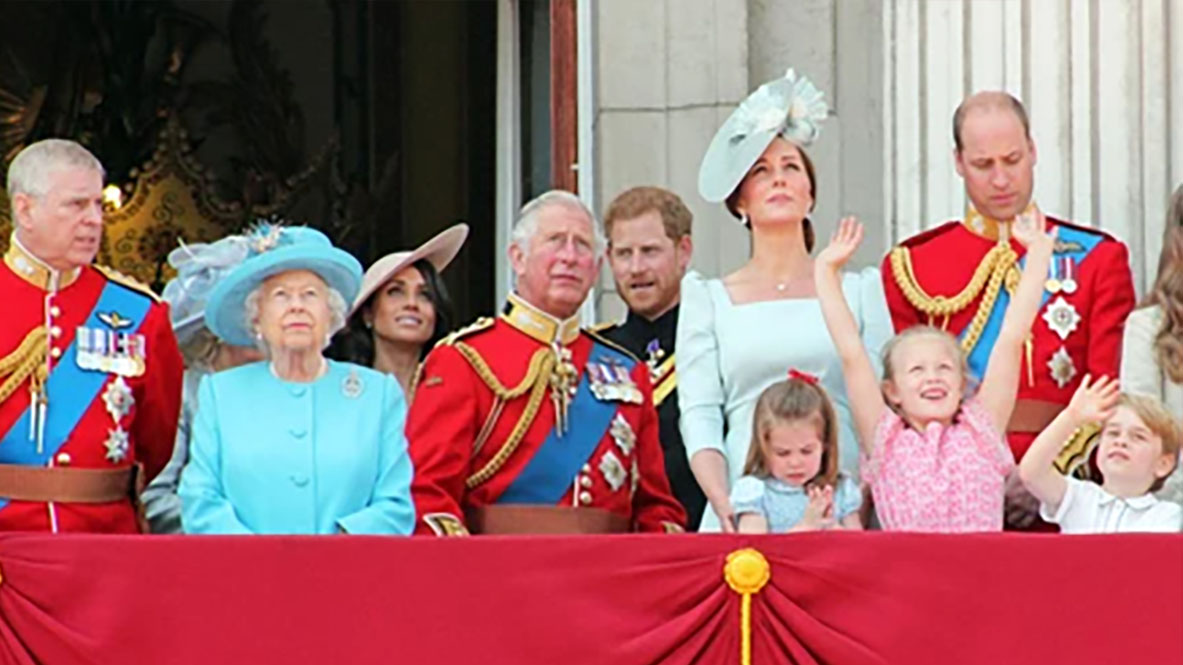 To us she's the Queen but her official title is Elizabeth II, by the Grace of God, of the United Kingdom of Great Britain and Northern Ireland; even her full name is a bit of a mouthful – Elizabeth Alexandra Mary Windsor.
Her husband Prince Phillip had some entertaining nicknames for his wife such as 'cabbage' and 'sausage', while as a child her family referred to her as Lilibet.
When it comes to families, people often don't always call their loved ones by their actual name.
Prince William now chooses to call his loved ones by nicknames without the excuse of being too young to pronounce their names but it's the nickname he has for his daughter Charlotte that is attracting the most attention.
A rare video of Prince William and Kate Middleton playing with their children at the Royal Chelsea Flower Show in 2019 reveals the sweet nickname Prince William has for his daughter.
The soon-to-be six year old is seen running around the garden mom Kate created for the prestigious annual event and Prince William asks George how many marks out of 10 he would give his mother for her creation, to which George replies 20.
Kate's 'Back to Nature' garden at the world's most prestigious flower show which dates back to 1912, included a swing seat, treehouse, and plants for craft activities all aimed at inspiring children, families, and communities to get back to nature.
As the family explore Kate's impressive creation Prince William gets on the garden's rope swing and calls for his daughter to push him but instead of calling for Charlotte he calls for "Mignonette".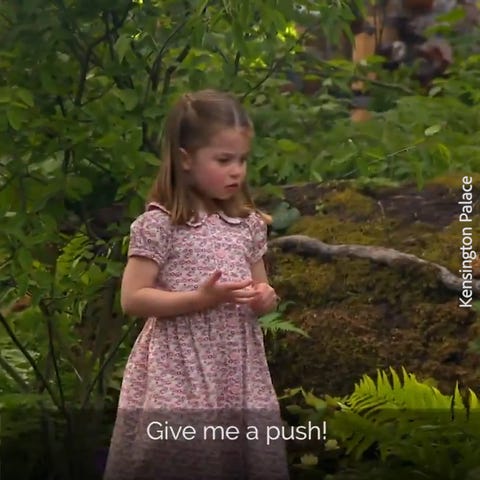 The French word is said to mean "small, sweet, and delicate" or "cute".
Older French definitions also show it can mean gentle and kind.
The clip posted on the couple's official Instagram account in May 2019 has been watched by 3.7 million people; it's a rare glimpse into one of the most famous families on the planet and fans can't get enough of the sweetness of the whole display.
In an official trip to Northern Ireland in 2019 Charlotte's mom Kate revealed her own nickname for her only daughter.
The Duchess of Cambridge met a fellow mom called Laura-Ann and her son.
Laura-Ann posted about the meeting on Instagram, claiming Kate had revealed her nickname for Charlotte during their conversation.
She said: "She asked how old Bertie is, and I said he is four and she said, 'Oh, he's the same age as Lottie.' She calls her Lottie!"
Charlotte's full name Charlotte Elizabeth Diana is already special with suggestions that Charlotte could be after grandfather Charles and of course her middle and third names are a tribute to the Queen and grandmother Princess Diana.
Meanwhile Charlotte's older brother Prince George has also been given a nickname and it's even more unusual – he's reportedly called Tips.
Tips is said to stem from his original nickname of PG for Prince George which led them to the name of a British brand of tea called PG Tips.
Perhaps even more entertaining is the nickname Princess Diana gave William when he was a boy – 'Wombat.'
"When we went to Australia with our parents, and the wombat, you know, that's the local animal, so I just basically got called that, not because I look like a wombat, or maybe I do," William said in 2007, as per Marie Claire. "I can't get rid of it now. It began when I was two."
Nicknames seem to be the norm in the Royal household with William having a whole host of sweet, affectionate and sometimes sarcastic nicknames for his wife.
The two will be celebrating their 10th wedding anniversary next month and still seem as much in love as the day they met at St Andrews University, in Scotland.
Media reports suggest hearing Prince William call his wife 'babe' and 'darling' and even 'babykins'. According to The Sun, in more private settings, William has been overheard calling Kate "darling," "babe," and "poppet."
During happier times between Prince William and his brother, Prince Harry reportedly had his own affectionate nickname for his sister-in-law, he called her "Cath," a shortened version of Catherine.
The Duchess is said to prefer the name Catherine over Kate, and Prince William has clearly noted that wish and calls her Catherine during more formal occasions.
I can't wait to find out what Louie's nickname is. If you have any suggestions for them please comment below and don't forget to share this story.