Prince William and his wife Kate Middletone welcomed their third child into the world three years ago on Friday and named him Louis Arthur Charles.
One of the newest members of the Royal family was born on St George's Day, the patron saint of England.
In choosing the name Louis the Duke and Duchess of Cambridge were honoring Prince Philip's uncle and Prince Charles' mentor Lord Louis Mountbatten, who was killed in an IRA bombing in 1979.
Charles is of course a nod to their grandfather Prince Charles who welcomed his third grandchild saying: "We are both (Camilla and I) so pleased at the news. It is a great joy to have another grandchild, the only trouble is I don't know how I am going to keep up with them."
The heir to the throne's first child George Alexander Louis was born July 22 2013 and two years later the couple welcomed their only daughter Charlotte Elizabeth Diana. Although named after her grandmother and great grandmother she is affectionately called "Lottie" and "Mignonette" by her parents.
To celebrate Prince Louis' third birthday his parents released a photo of him riding his bike.
The duchess, who is a keen photographer and has released many family pictures to the public, took this latest snap in the grounds of Kensington Palace on Wednesday before he left for his first day of nursery school.
Prince Louis is fifth in line to the throne and was given the title His Royal Highness (HRH) thanks to his great grandmother Queen Elizabeth.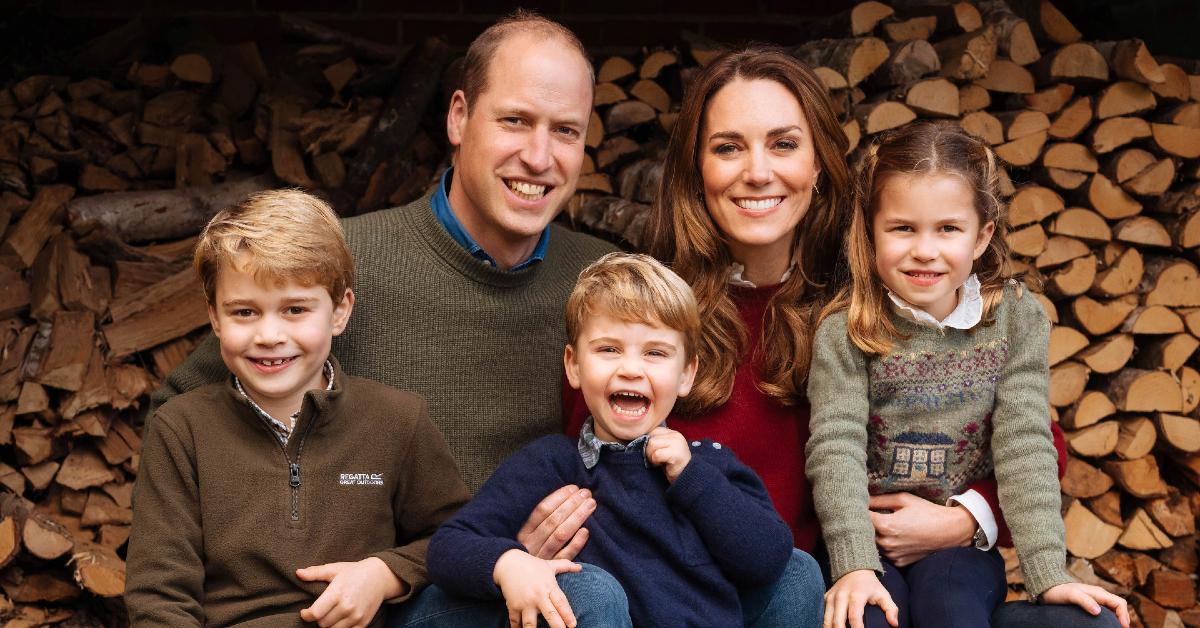 She intervened to overwrite a rule put in place by King George V, reports the Express.
The King decided that not all royals should have titles declaring those too far down the line of succession were no longer entitled to one.
The 1917 Letters Patent stated that only the sons of the sovereign "shall have and at all times hold and enjoy the style, title or attribute of Royal Highness with their titular dignity of Prince or Princess prefixed to their respective Christian names"
This also extended to any grandchildren born through the male line.
This would have meant as the sovereign's great grandson Louis would not have been entitled to the HRH title if it wasn't for the intervention of his grandmother the Queen.
When William and Kate's first child was born under King George's rules he wouldn't have been given a title but the Queen stepped in and said that George would get a title, and decided to extend the change to all of Kate and William's children.
This means that even though Charlotte and Louis, who are further down the line of succession and are unlikely to ever sit on the throne, also have a title.
According to the Express newspaper if the Queen hadn't overruled her father's statement Louis would not have been a Prince and would instead have been known as Master Louis Cambridge, after his father's title, or Master Louis Windsor after the House of Windsor.
Her move became the subject of extensive scrutiny when Prince Harry and Meghan Markle told Oprah Winfrey that their son Archie was refused a title, despite prior media claims that the couple had actually refused a title for their son.
"They didn't want him to be a prince . . . which would be different from protocol, and that he wasn't going to receive security," she told Oprah in the interview at the beginning of March.
"We have in tandem the conversation of, 'He won't be given security. He's not going to be given a title.' And also concerns and conversations about how dark his skin might be when he's born," she added.
However experts have denied Meghan's claims that it was "different to protocol" stating Archie, who will turn 2 next month, will receive a title after the death of Queen Elizabeth.
When Prince Harry, 36, and Meghan, 39, were married in May 2018, Queen Elizabeth gave them the titles of Duke and Duchess of Sussex. Archie, who will turn 2 in May, was entitled to the "courtesy title," Earl of Dumbarton. However, the couple announced shortly after his birth that they had not given him a courtesy title and he would be known as Archie Mountbatten-Windsor.
Meghan is thought to be seven months pregnant with a girl with much speculation on what name they will choose.
According to one expert it's unlikely to be Diana as the couple fear it could put too much pressure on her as she grows up.
"They are highly unlikely to call their daughter Diana. Their biggest concern is that it would make her a bigger target for the media, and considerably increase public interest in the child's life," according to a Page Six source.
Further, Harry and Meghan are said to fear that the name would "place too much pressure on the child", and also make everything in life more difficult, though Diana might be a middle name as Prince William's daughter Charlotte has.
What do you think about the titles the Queen has allowed her family to have, which go against her father's wishes? Do you think there are too many royal family members with titles? Please comment below and share this story.