Nearly 50 years after Sacheen Littlefeather was booed and ridiculed as she stood onstage during the 1973 Academy Awards declining Marlon Brando's Best Actor award on his behalf, the now 75-year-old has finally received a formal apology from the Academy of Motion Picture Arts and Sciences.
"The abuse you endured because of this statement was unwarranted and unjustified," former Academy president David Rubin wrote in part to Littlefeather.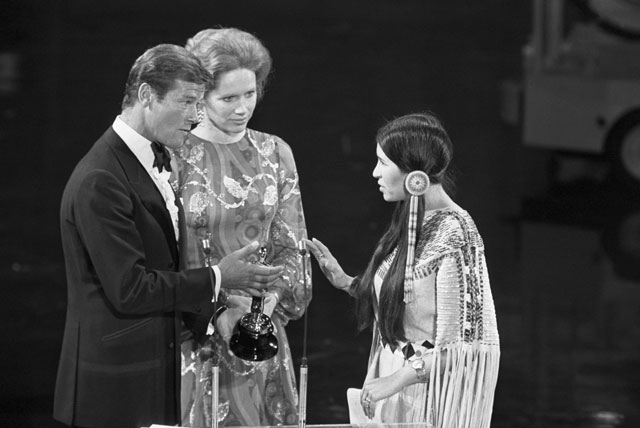 The incident, which is notably one of the most recognizable Oscar speeches, took place when Littlefeather, then 26, represented Marlo Brando at the Academy Awards. If Brando, who was expected to win for his role in The Godfather, won the 26-year-old had been instructed to decline the award.
Brando was boycotting the ceremony to bring attention to Hollywood's portrayal of Native Americans and the standoff at Wounded Knee.
When Brando won, Littlefeather took the stage. Although she did not accept the statue as Brando insisted upon, she was unable to read the lengthy speech he had prepared for her as she was threatened with arrest if she went past 60 seconds.
She calmly delivered her speech to a mixture of boos and appaluse.
"I focused in on the mouths and the jaws that were dropping open in the audience, and there were quite a few," she told the official Academy blog, A.Frame. "But it was like looking into a sea of Clorox, you know, there were very few people of color in the audience."
Following her non-acceptance speech, John Wayne had to be restrained by security so he didn't attack her.
But the backlash didn't stop there. Littlefeather said she was "silenced" and despite having worked in the film industry prior to delivering her speech, she found it extremely difficult to find any work.
Instead she turned her focus to activism.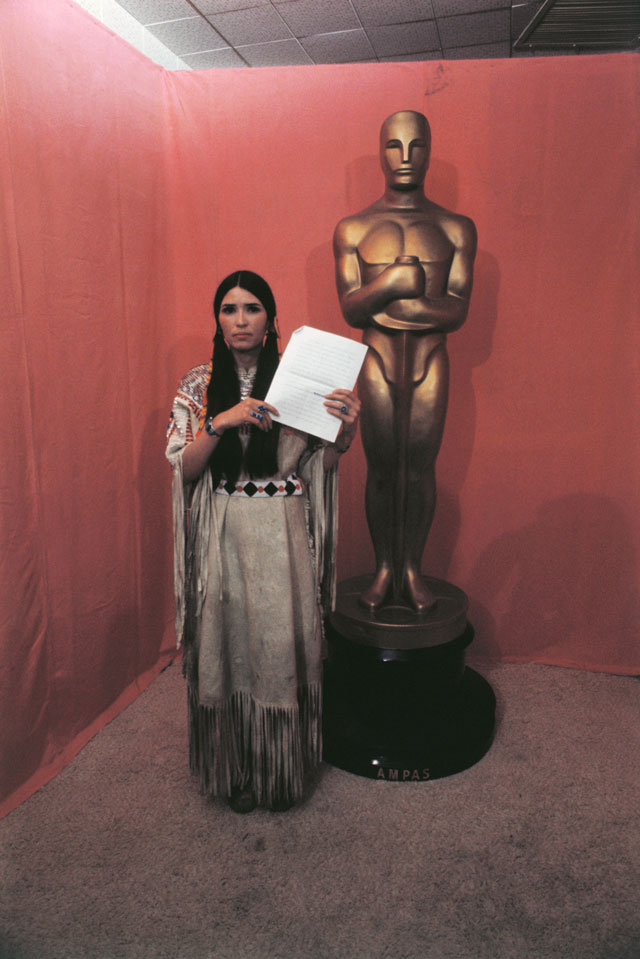 It wasn't until June 2022 that the Academy reached out to Littlefeather and formally apologized to her for the mistreatment she suffered nearly 50 years ago.
The Academy Museum director and president Jacqueline Stewart visited Littlefeather's home in June where a framed copy of the letter was read and presented to her.
"The emotional burden you have lived through and the cost to your own career in our industry are irreparable. For too long the courage you showed has been unacknowledged. For this, we offer both our deepest apologies and our sincere admiration."
"I never stood up onstage in 1973 for any kind of accolades. I only stood there because my ancestors were with me, and I spoke the truth," she said.
"Regarding the Academy's apology to me, we Indians are very patient people — it's only been 50 years!" she said. "We need to keep our sense of humor about this at all times. It's our method of survival."
It's horrible to think how Sacheen Littlefeather was treated, and that it took nearly five decades for a formal apology! Do you think more should have been done?
Let us know your thoughts and then share this story on Facebook to keep the conversation going.