This year's annual National Memorial Day concert marked the 30th year of the patriotic event and it did not disappoint. Held on the West Lawn of the U.S. Capitol, the event featured military families and veterans remembering past and present servicemen and women.
Many of Hollywood's stars also appear on stage to show their support for our country's bravest.
For the first time in 14 years, Gary Sinise wasn't in attendance, but another familiar face associated with veterans showed up and he delivered an emotional performance.
Sam Elliott was chosen to honor the night's honoree, D-Day survivor and WWII veteran Sgt. Ray Lambert.
The actor, known for his roles in Tombstone and most recently as the narrator for Honor Guard, recounted Lambert's experience on D-Day.
"It was total confusion," Elliott read. "Shells exploding, boats blowing up, people yelling because they couldn't hear anything, machine gun bullets hitting the water all around you, the roar of the boats coming in. It's like you're all alone in the world of a million people because you're concentrating on what you have to do."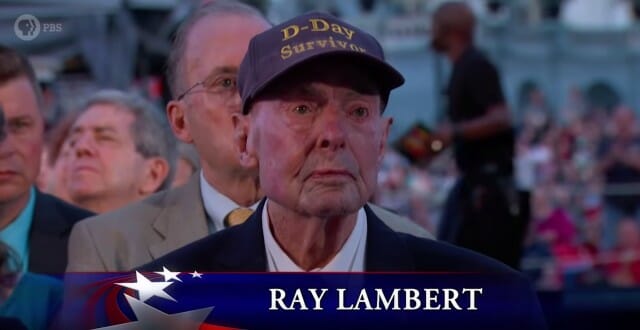 "I just kept going. I was thinking of only one thing — getting to the men who needed me," Elliott continued. "You did the job you were trained to do. If you didn't, you died."
At the end of the reading, Elliott walked off stage to greet Lambert and thank him for his service.
Watch Elliott's emotional reading of Lambert's experience in the video below.
Pass this article on to share this WWII veteran's story! We must never forget.