Zach Roloff, star of Little People, Big World, recently underwent brain surgery.
His wife Tori Roloff shared the emotional news on Instagram Thursday.
"Not exactly how we saw our week going…" she began the caption of her post which included two photos of Zach in a hospital bed.
"Zachary had emergency shunt revision this morning."
Zach's father Matt Roloff first hinted that something might be wrong when he shared a photo of his son and asked his followers for prayers as his 32-year-old son was preparing for "important shunt revision."
READ MORE:
Tori also shared a similar request Wednesday night on her Instagram stories asking her followers for prayers.
"They say it's routine surgery but it's far from my routine and Zach and I are nervous," added Tori. "It feels big to us but we trust his doctors and their ability and knowledge! Any prayers are greatly appreciated!"
Following the surgery, Tori shared an update on her husband's condition.
"It's been a scary 72 hours but he is doing well and recovering!!"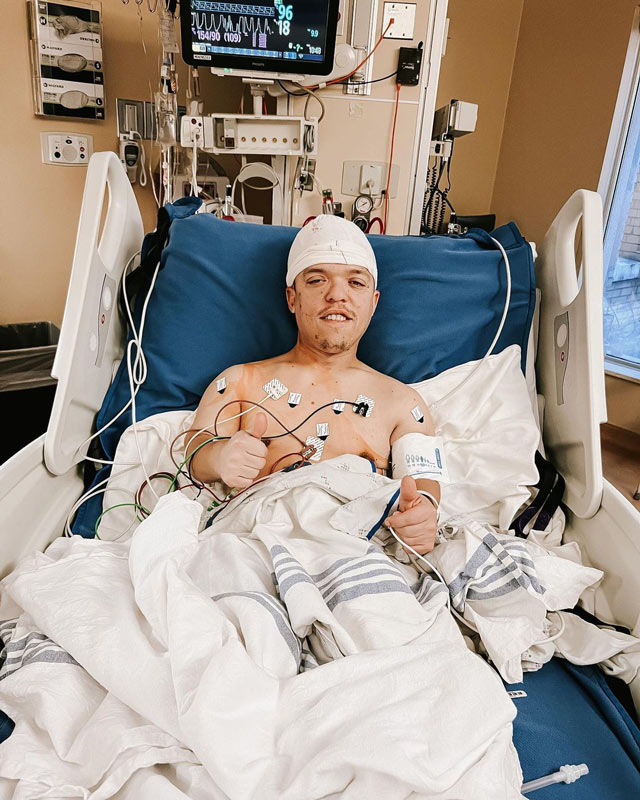 She also thanked all of those involved in his procedure, including Zach's mother Amy Roloff "for holding down the fort and playing hide n seek for who knows how many hours."
The couple share three children: Jackson, 5, Lilah, 3, and 9-month-old Josiah. 
The reality TV star added her hopes that the surgery would solve her husband's health problems.
"I'm here praying that Zach's recovery is quick and easy and that this will be our answered prayers to relieving his migraines!"
"You're a freaking bad ass, Zach. You just had brain surgery… and handled it like a rockstar. I'm so proud of you."
Zach, you are in our prayers as you continue to recover from brain surgery.
Please share and send a prayer of healing to Zach as he begins his recovery.