A 100-year-old World War II veteran finally received the recognition he deserved more than seven decades earlier.
Walter Ness, who operated a wood-hull minesweeper in the Pacific Theater during WWII, recently received three long overdue service medals.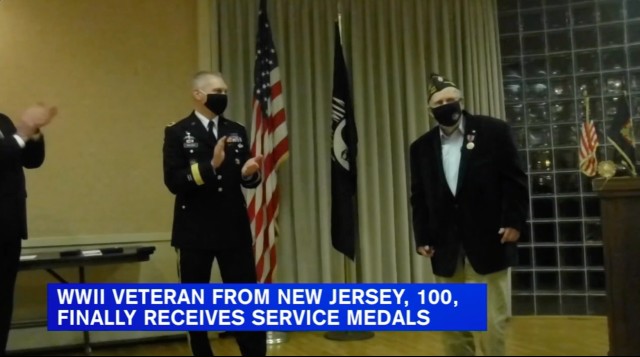 "I spent most of my time in the Pacific on a minesweeper, smaller than a seagoing tug," Ness told the Daily Record. "Most of the time, we protected the harbor from submarines in Guam, patrolling the entrance to the harbor. We also did convoy work, protecting merchant ships going back east."
Unlike his peers, Ness didn't serve in the military for long due to a presidential deferment, but when the draft laws were revised he suddenly found himself fighting alongside his buddies.
Following the New Jersey resident's time in the military, he should have received several service medals, but since the government was using brass for munitions, none was available military decorations.
And so Ness' medals and countless others went without.
That is until a friend and retired naval officer recently looked into the issue.
The plan was initially to deliver the medals to Ness during a celebration for his 100th birthday, but due to COVID restrictions that didn't happen. The event was rescheduled for December, but a snowstorm ruined those plans as well.
But finally, in mid-January he was able to receive the medals he deserved.
After 75 years, Ness received his service medals in front of family members and approximately 20 VFW members.
Congratulations Walter and thank you for your service!
Share this to thank Walter Ness for his service.