There's nothing like picking up your favorite food and enjoying it in the comfort of your own home. Don't you wish you could do that all the time?
Noah Dionesotes, who has multiple sclerosis, wished he could eat his neighborhood cafe's vegan soup all the time, but since he relied on a wheelchair, getting to the restaurant was difficult.
The cafe owner, Juan Carlos Beristain, learned about Dionesotes' love for the soup and wanted to make sure he received the soup, which Dionesotes said provided him the nutrients he needed.
"I felt that I could help him at least by delivering the soup that he likes, with the nutrition that is going to help him," Beristain told WGN-TV.
Beristain, who owns JC's Café in Cary, Illinois, reached out to Dionesotes and offered to deliver the soup free of charge. According to CNN, Dionesotes didn't accept because he was uncomfortable with the offer, but several months later when he was going through another round of chemotherapy Beristain showed up at Dionesotes' home with free soup.
"I told him that I would take care of him," Beristain told ABC News. "He's really trying to collect some money to get a procedure that could save his life. So, I told him to stop wasting money on soup."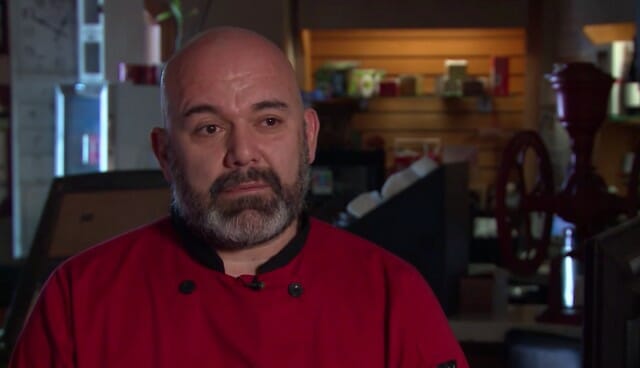 Since Beristain showed up at Dionesotes' doorstep, the cafe owner has continued to show up, each time bringing soup free of charge.
"The second time he brought it, I was like, 'he's not lying,'" Dionesotes told WGN-TV.
With each visit the two have gotten to know each other a little better. Beristain has learned about Dionesotes' condition and has even met his wife and two children.
"It's the right thing to do for another human being," Beristain said.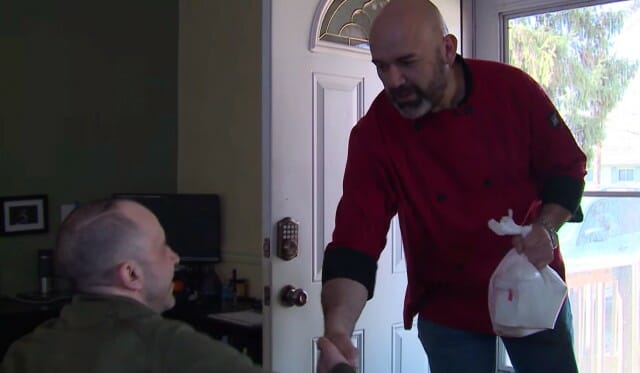 Unfortunately, the soup deliveries will stop this summer when Beristain and his family move back to his hometown in Mexico to care for his father.
But their Cary residents' friendship might not end when Beristain moves. Dionesotes plans to receive a stem cell transplant in Mexico, about three hours away from Beristain. According to ABC News, the cafe owner said he plans to visit Dionesotes.
There is currently a GoFundMe set up to help Dionesotes raise funds for his treatment.
Share this article to thank Juan Carlos for his kindness!