Emma Frost was feeling the stress of the pandemic while struggling to feed her five children.
She was self-isolating after a family member had tested positive for coronavirus at her home in Chester, England, and was feeling the strain.
But when her eldest child answered a knock at the door to find bags of groceries and five packed lunches she was moved to tears.
The anonymous donation came with a handwritten note which read "a gift from our family to yours".
The note continued: "'Hi Emma, I'm doing food drops in the community, and someone has put your name forward to receive one. I'm also doing kids packed lunches Mon – Fri. If you don't want to receive the kids lunches just send me a message… Otherwise I'll drop them between 10.30 and 12 pm."
Her children, aged between 11 months and 16 were also lifted by the generous donation and the younger ones couldn't wait to dive into the cookies, Emma said.
"When she (her eldest child) came in, she told me that someone had left the shopping with a note. When I read the note I teared up. I was shocked. It was totally unexpected," Emma said, as per the Metro newspaper.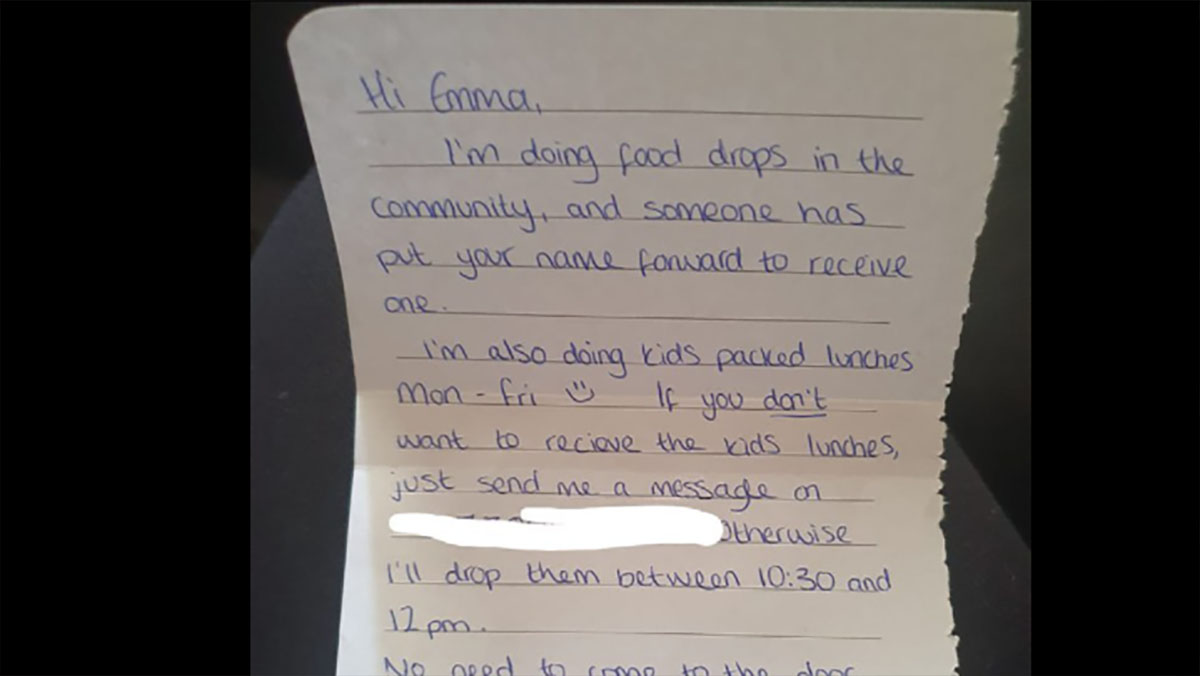 She said the donation was an "amazing support" to her family.
"On a day where I was struggling mentally, you brightened it up. It is very much appreciated and it shows there are still some people sharing their humanity around."
Many volunteers, restaurants, cafes, pubs and nonprofits have been providing free meals to disadvantaged children after the U.K. government voted not to extend free school meals to children over the October school break.
It's so wonderful to see people coming together to lift their community up. Nobody should be alone and struggling during this horrific time, we could all do with a little help.
Please share to pay tribute to the anonymous donor and all the other volunteers who are helping to ensure our children do not go hungry.