Towards the end of the school year high school seniors around the country excitedly announce where they'll be attending school in the fall. Many, who go off to play sports in college, sign their letters of intent in front cameras, while others make their decision quietly amongst family and friends.
Jacob Bradley, a Montgomery County High School senior, held a letter of intent ceremony announcing he was committing to working with a local plumbing company after graduation.
"I figured trades deserve more attention."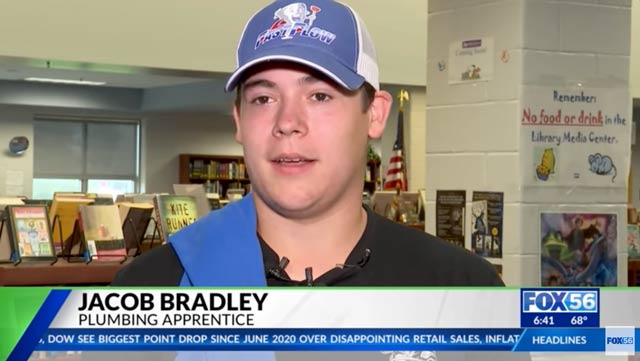 The 18-year-old from Central Kentucky has been working since he was 15 said he's had the opportunity to see both the pros and cons of going to college – his parents didn't go but his sister went – and he decided jumping into the workforce was for him.
"And, all three of them were pretty successful, in my opinion…And when I see the opportunity that I don't need to go to school, and I can learn either way and do just fine, I figured there's no point in having a debt in anything, if you don't need to," he told Inside Edition.
In March 2022, Jacob began working part time with Fast Flow Plumbing.
It all started when he met the company's vice president at a career fair. Jacob is enrolled in his school's co-op program which means he spends the first half of his day at school and the second half he spends working.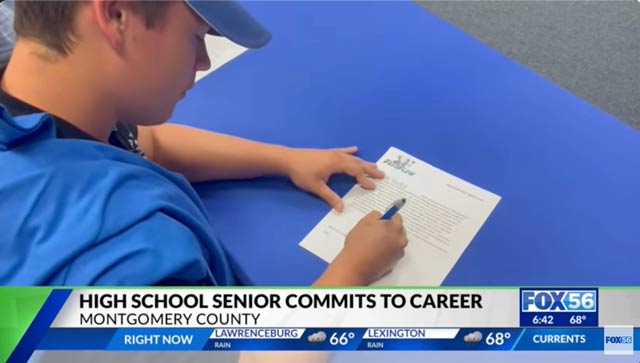 In mid-May while other classmates and fellow Class of 2022 seniors were signing letters of intent for athletics, Jacob showed his commitment to work for Fast Flow Plumbing.
"It's just more of my style," he told WKYT. "I was never really wanting to be an accountant or sit down."
The ceremony was the first of its kind at the high school, and Lacey Gross, the school's counselor, said she hopes it's a tradition that continues.
"There is nothing to be ashamed about going immediately into the workforce, so I think it's awesome," Gross said. "We can celebrate our athletes who are going on and doing something awesome, but we can also celebrate students like Jacob."
As a plumbing apprentice, Jacob will work alongside a master plumber and learn everything he needs to know in order to obtain his journeyman's license.
During his apprenticeship he will make between $14 and $20 per hour.
"I am hoping that this brings light to the fact that there are so many awesome opportunities and programs available to our students who are graduating," Gross said. "And we should acknowledge that and congratulate them, just like we do the athletes."
I love this idea. I also believe we should celebrate trade careers. There is nothing to be ashamed about if you skip college and go right into a career.
Let's hope this isn't the last time we see this kind of ceremony.
Please share!